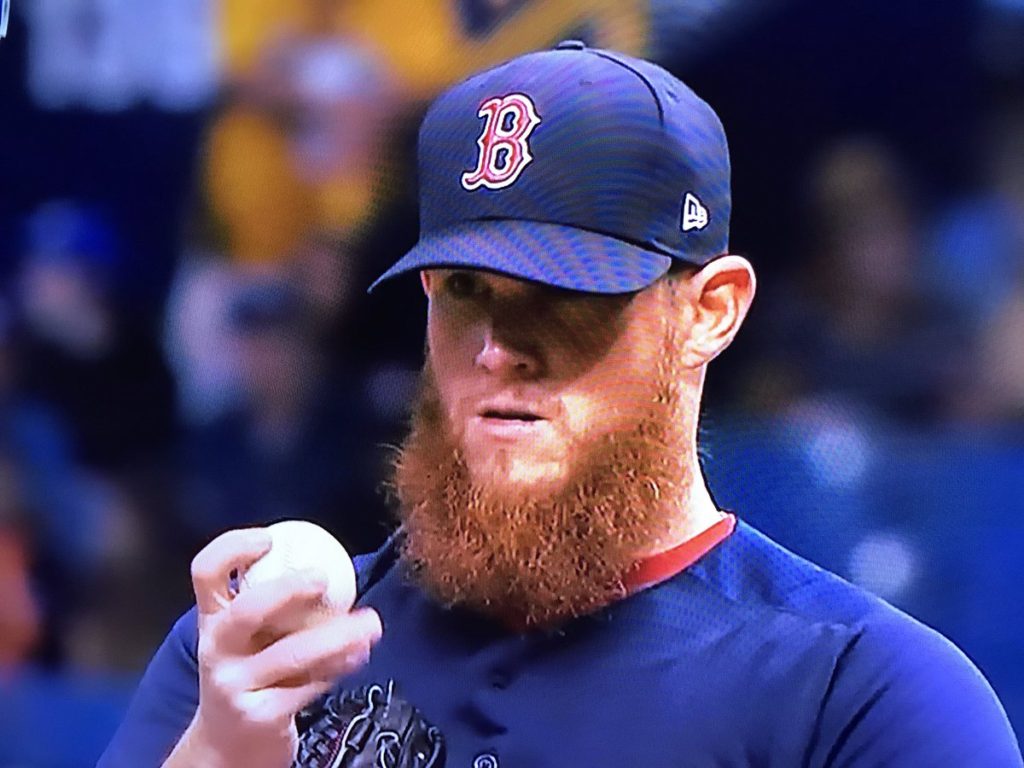 After One Beer: Well, let's look at this pragmatically. [Removes pipe from mouth, adjusts tie] Closers, as any student of "The Game" will tell you, are a dime a dozen. But good closers — dare I say elite closers — are far more difficult to find. Am I saying that Craig Kimbrel is an elite closer? Maybe. Maybe not. But I am saying that he is a seven-time All Star and four-time NL leader in saves. Also the quickest to get to 300 saves. You don't just grow those fellows on trees. He is very likely (and I say "very likely" because I'm far too lazy to look it up) the Red Sox' best closer of the past 20 years. Maybe the past 50 years. Also, is this beer free? Because if it is, I'll have another.
After Two Beers: Papelbon is probably the closest to Kimbrel in terms of pure dominance. Pap was a strike-throwing robot in the 2007 post-season and he backed up all his beer-box-mask-wearing and Dropkick Murphys jigging antics with solid numbers. Koji was lights-out in the 2013 postseason but Pap was lights-out to the most intense degree imaginable (at least as I recall). When we needed him most, in the 2007 World Series, Papelbon gave up zero runs over 4.1 innings. Kimbrel also pitched 4.1 innings in the 2018 World Series, but gave up three hits and two runs, including a home run, for a 4.15 ERA. Still, I'd want him as my closer. That said: Can we afford to lose him? Shit, even with the Yanks signing Cano and Diaz and threatening to pull in Machado, I still see the Red Sox as 2019 World Series Favorites. I don't think that changes without Kimbrel.
After Three Beers: Look, I'm petty enough to still blame Kimbrel for the 2017 ALDS. When you're the closer, your job is to close games. In game four, the Astros scored the winning run on Kimbrel's watch, therefore he has to take the blame. Of course, since Kimbrel was technically called in to keep a 3-3 tie from being broken, some people pointed to Farrell, saying, "he should know not to bring in Kimbrel when he's not protecting a lead." To that, I say: bullshit. The guy is a professional, and he knew everything that was at stake. It's the same response I give to people who say, "Without Kimbrel, we wouldn't have even made the postseason." So, we're supposed give him a pass? Overlook the fact that in the biggest game of his career he promptly shit the bed, giving up three hits, a walk and a passed ball in just one inning of work and ultimately surrendering the winning run? Sorry but, again, that's bullshit. You work to make the playoffs. That's the goal out of spring training. And if you can't cut it in October, that's on you. If David Ortiz worked to get us to postseason then said to his teammates, "I took us this far, chaps. Now it's on you," we'd still be title-less. Also, is this Bud Light? Got anything else?
After Four Beers: Who would you feel more comfortable seeing coming out of the bullpen with a game on the line? Tom Gordon? Koji? Koji wasn't even our goddam closer when 2013 began. Maybe Foulke. Yeah, definitely Foulke. Foulke will forever stand as one of our most memorable closers because he's the guy who didn't give it up. He's the guy who didn't choke away the lead. In the pre-2003 world, we choked away the lead. But Foulke led us into the brave new world.
After Five Beers: That fucking vulture stance means something, right? It's like a vision thing?
After Six Beers: Who would win in a fight between Craig Kimbrel and Allen Craig? What about Craig Hansen? Remember that motherfucker? Also, I can't drive so I'm either sleeping on this goddam floor or walking to Burger King.
After Seven Beers: Jesus fucking christ, his playoff beard made me want to puke.
After Eight Beers: Joe Kelly throws 100 and he punches Yankees. That's the guy you want coming out of the bullpen to close things out. Just make him the god damn closer and be done with it. Also, you got anything better than "Ruffles" to eat?
After Nine Beers: EVERY TIME KIMBREL COMES INTO A GAME I FEEL LIKE MY STOMACH'S GONNA EXPLODE. HOW CAN WE LIVE LIKE THAT FOR ANOTHER SEASON? JUST LET HIM GO. THANK HIM FOR HIS SERVICE AND LET THE MAN GO. JESUS.
After Twelve Beers: [Pants and shirt missing] Who said that? [Mutters something unintelligible about Daniel Bard] His hands were like mittens. He had mitten hands.