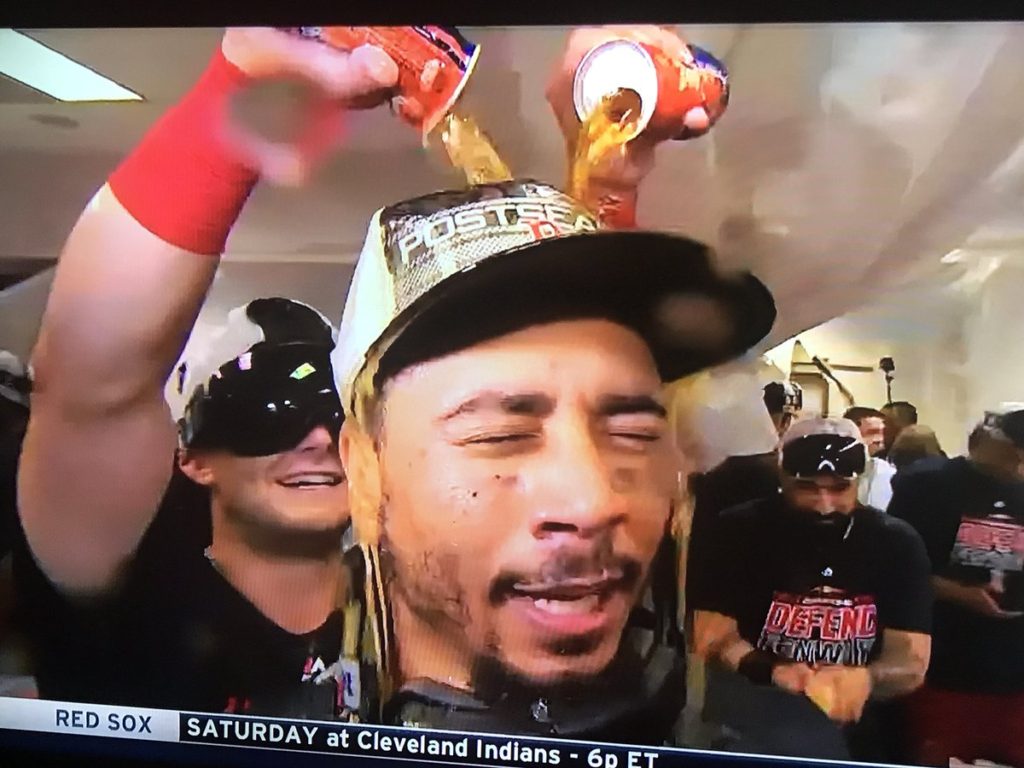 The Red Sox won the AL East last night, and I was so caught up in a Devil Dogs- and whiskey-induced stupor I almost forgot that this was the third consecutive year they'd done so. Now it's on to the ALDS and sleepless nights and me possibly throwing my couch out the window. Again.
One thing I'm trying to not do as we enter the playoffs is complain. The bullpen sucks. Can't hit in the clutch. Cora over/underthinks. Sandy Leon is dragging us down. Guerin Austin doesn't wear enough tight leather skirts. I could go on, but you get the picture.
I'm old enough to remember the dog days of the late 80s and 90s, when, after a brush with immortality in 1986, the Red Sox were cast adrift in a sea of mediocrity. In the 10 years from 1988 to 1998, the Sox went to the postseason 4 times and earned a grotesque 1-14 record, becoming perennial first-round bouncees. When they didn't make the playoffs, they were doing stuff like finishing last in or near the bottom of their division (1992-93). Things changed a bit in 1999, when Pedro led the charge in a memorable ALDS victory against the Indians, but then the Yankees quickly ended that dream, sitting on our lunchbags in the ALCS.
In other words, I've seen some shit. And while I love to bitch and moan as much as the next guy, I'm trying to remember that we're witnessing something remarkable this year. The Red Sox have not only won the East, but they're now two victories away from becoming the winningest team in franchise history. That's a pretty fucking amazing story no matter how you slice it. And along the way, they've provided everything I've asked them to this summer: something fun and exciting to distract me from the job that's slowly killing me, the world that's imploding around me, and the pretty girl who doesn't like me quite as much as I like her.
Since 2004, as a Red Sox fan, I've been living in and breathing rarefied air. I've seen three World Series parades. Witnessed countless no-hitters. Watched young studs like Mookie and X and Benintendi walk through the door. Experienced the magic and grandeur of David Ortiz. Seen Sox comebacks that made absolutely no sense… but still happened.
Do I hate losing? Hell yeah. I'm embarrassed to say I still put my fists through the walls during NESN broadcasts with alarming regularity. And I'm not afraid to kick rocks after I bet the Sox at kasyna bez depozytu dla polakow and end up losing big. But I'm trying to be better. Because I'm living in a world that young me never thought possible. And it's pretty damn good.
So now I have some time to think about how I wanna spend the next few days before the playoffs. Whining about Chris Sale's health? Agonizing over which JBJ is gonna show up for the postseason? Praying to God and sonny Jesus that Xander breaks out of whatever funk he's in and returns to his old, reliable self? Hoping the bullpen can be dipped in magic waters before first pitch of the ALDS?
Or do I wanna just sit back, pour a tall Redbreast, buckle in and enjoy the show?
It'll be tough, but I'm gonna go with option B. And thank the lads for another unforgettable summer… not to mention bonus October baseball.
Mookie and the beer waterfall pic.twitter.com/jOWYKuMrfM

— Red (@SurvivingGrady) September 21, 2018