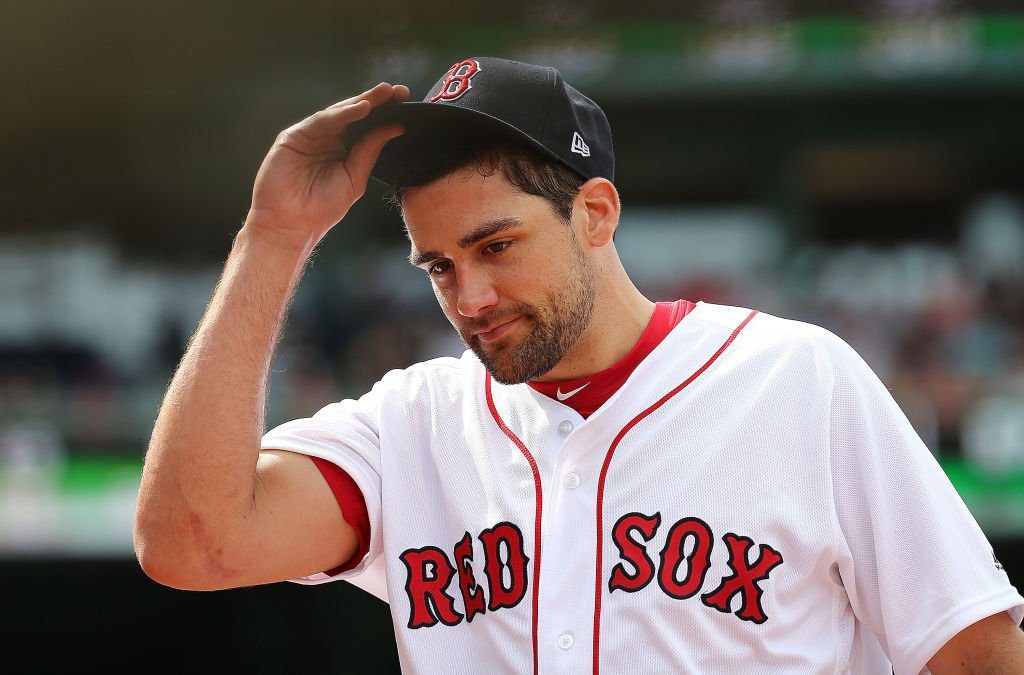 Today, we welcome Nathan Eovaldi to Red Sox Nation. And while he may look like the love child of JD Martinez and Pete Davidson, there's a lot more to the man. Today, let's discover.
Nathan Eovaldi is the 28-year old right-handed pitcher the Red Sox most recently added to the team. He was exchanged for Jalen Beeks, a 25-year Minor League player. Eovaldi has been used mainly as a starting pitcher in his career thus far, so this is the most likely role for him to fulfill with the Red Sox. Some things you should know:
He Has Had Multiple Tommy John Surgeries
While he was still a junior at high school, Eovaldi became a member of a rising wave of younger pitchers to partake of this procedure at a young age. Ulnar Collateral Ligament Reconstruction, also known as Tommy John surgery, or TJS (which, apparently, is *not* an installment in the Terminator series), is a method by which the torn ligament is repaired inside the elbow. His draft stock fell in 2008 as a result, and the Dodgers chose him in the 11th round. Still, he chose to sacrifice attending Texas A&M so that he could focus on becoming a pro.
Eovaldi also missed the whole 2017 season because he was recovering from another injury to his pitching arm, which saw him undergoing yet another Tommy John surgery. Luckily, the Red Sox have decided he's healed up just fine, and punters who enjoy the online betting NZ and the rest of the globe offers can now see this for themselves!
His Velocity Is Excellent
Especially when one considers that Eovaldi has had multiple surgeries in his career, the player has managed to hold on to incredible velocity. In 2018 so far, his fastball has ranged between 93 and 100 miles per hour! He is also in possession of a cut ball, or slider, in the low 90s, and a split-finger fastball that is proving as nasty as they come.
He's Traveled Quite a Bit
Despite not yet celebrating his 30th birthday (dude's technically a millennial… I think), Eovaldi is already on team number five. His debut in the Major League was with the same team that drafted him, the Dodgers, and he was afterwards traded to the Marlins in 2012. The pitcher then got traded once more, to the Yankees, and he joined Garrett Jones and Domingo German at the team. After he'd gone through his second Tommy John surgery, Eovaldi got released by the Yankees in November 2016, and was signed with the Rays in February of the next year.
Eovaldi Can Be Elite Early On
Jim Turvey, writer for the Rays, recently pointed out that Eovaldi can be unusually good when he is facing opposing hitters two times through the batting order. Beyond that, the player's performance starts falling off:
As of the 9th of July, batters facing him for the first and second times manage to hit only .155 and .149 respectively, but, when it came to third-at-bats, this average increases steeply, skyrocketing up to .303.
Turvey pointed out that Eovaldi carried an Earned Run Average, or ERA, of 2.29 in his first two times going through batting orders, a number which puts him in the same league as Chris Sale, who has an ERA of 2.09 in the same span. Yet, when one considers Eovaldi's overall ERA of 4.26, it indicates that he does start struggling later on in the game.