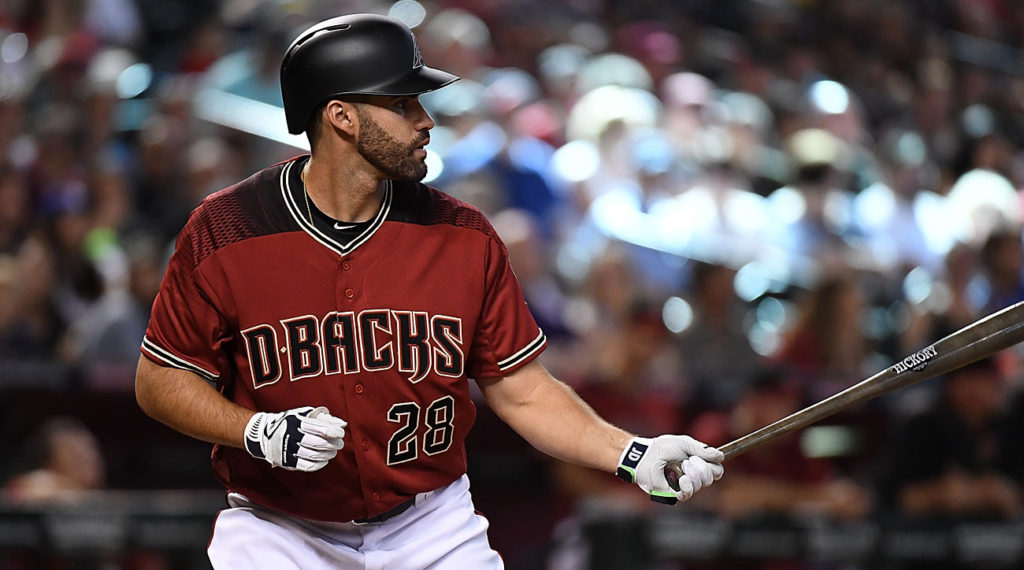 "The Sound of Silence" could pretty much sum up the Boston Red Sox' offseason. They locked in a few guys like Steven Wright and Mitch Moreland, and from what I hear Tom Werner had a pretty crazy pinochle tournament at his secret underground mansion. Other than that, they've focused their efforts on acquiring JD Martinez. Things were looking good for the team to sign the free agent but recently, talks between agent Scott Boras and the organization seemed to have stalled, and fans are starting to worry whether or not a deal will eventuate.
Although the Red Sox are the obvious front-runners to lock in the services of the 30-year old, there are some other teams that the player could go for if an agreement can't be made between the two parties. There hasn't been a huge amount of rumors flying around so far this year, but, there's no denying that a host of clubs would happily jump at the chance to snare the power hitter's services for the coming season. Let's take a look at the teams that have the potential to compete with Boston in the hunt for securing the services of Martinez.
Arizona Diamondbacks
Probably the most talked about team apart from the Red Sox would have to be the Diamondbacks. Even though they aren't usually the kind of team that is involved in high-end free agency signings, they could be tempted after Martinez' incredible form for them towards the end of last season. The side are currently the tenth-favorite at +1800 to win the title according to MLB odds on bet365, and signing a big hitter like Martinez would surely help them to stay competitive against the big guns in the competition. They did sign Zack Greinke just a few years ago for a whopping $206.5 million, and that could hold them back in their pursuit of the big hitter. However, it's hard to see how they could afford both Greinke and Martinez, especially while trying to keep AJ Pollock and also Paul Goldschmidt on their roster. They were obviously impressed with his performances in 2017, and they may even look to trade someone to free up some money to make the trade.
San Francisco Giants
There has been several rumors linking the Giants to Martinez during the winter, and they could provide some steep competition for Martinez' signature. Although they had a horrible season in 2017, Buster Posey and Madison Bumgarner still very much in the prime, and it makes sense for the team to go for a free agent rather than trying to rebuild. It's no secret that they could also do with some help in the outfield, although they have been heavily linked with Jay Bruce recently and would probably not be able to sign both.
Toronto Blue Jays
The Blue Jays see themselves in a funny spot heading into next season with their once impressive offense taking quite a hit after Edwin Encarnacion and Jose Bautista both exited the side during the winter. The team is massively dependent on their pitching staff and it may even be good enough for them to sneak into a wildcard place. However, adding a player such as Martinez would surely bring them into playoff contention and it might be the right time for them to get into the free agency market.
NASA
What if the motherfucker wants to go to space? Think Dave Dombrowski's gonna stand in his way? No chance.
Boston will be hoping that a deal can be reached sooner rather than later. If Martinez is serious about challenging for the World Series it seems like the likely destination for the hitter, and the Red Sox will definitely be pushing for the title if they can secure his services.