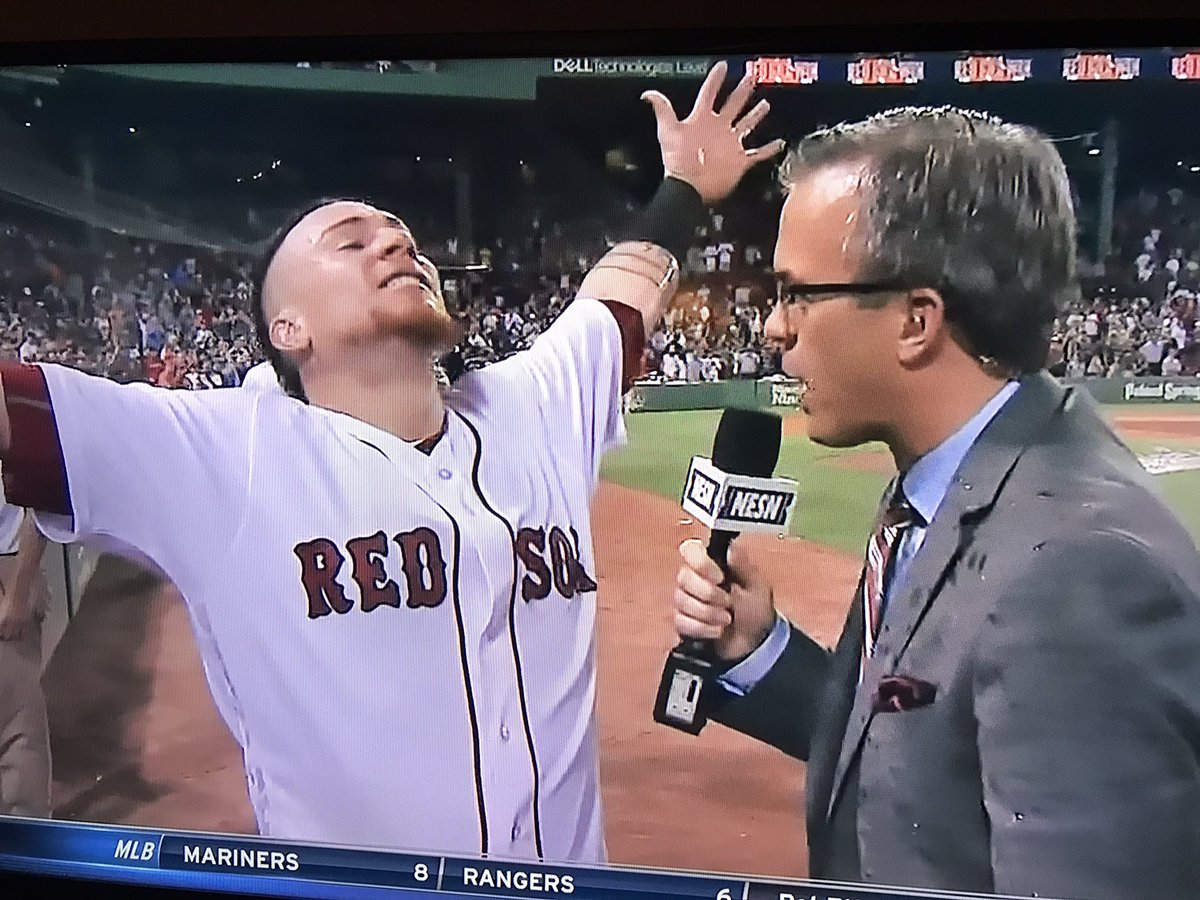 I could sit here and check off all the baseball cliches about teams picking up their superhuman starters when they're down and what that says about those teams, but this game blows everything out of the water. All we need to know is that on a night when Chris Sale and Craig Kimbrel looked very human, and when newly-acquired bullpen guy Addison Reed served a home run to his first batter, the offense rallied, conjured thunder and lightning, and pulled an absolutely improbable win from their collective asses.
Right out of the gate, the Sox were down 5-0, but in the bottom of the second they got it all back, courtesy of Mitch Moreland and Eduardo Nunez. Then Cleveland broke the tie, going up 7-5 in the top of the fifth, only to see the Sox score 4 the next inning to go up 9-7. Somewhere in the middle of all that, Austin Jackson snared a Hanley Ramirez blast that seemed destined for the bullpen. LOOK AT THAT CATCH. That's exactly what I believe Torii Hunter was aiming for in the 2013 ALCS. Let's just take a moment to thank God that the result was very different.
HOLY SHIT WHAT A CATCH pic.twitter.com/1cZElbxdbV

— Red (@SurvivingGrady) August 2, 2017
Anyway, the lead slipped away when our two most vaunted bullpen arms — Old Reliable Craig Kimbrel and New Reliable Addison Reed — each gave up solo home runs. It only got worse for Kimbrel when he allowed the go ahead run to score on a passed ball. Game over? No fucking way, said Christian Vazquez, who delivered an inexplicable two-out, three-run walk-off home run — his third hit of the night — to end the craziest game of the year and push the Sox back into first place.
VAZQUEZ THE CONQUEROR pic.twitter.com/hvyE0NaoqW

— Red (@SurvivingGrady) August 2, 2017
It's important to point out a couple things. First, Christian Vazquez was only in the game tonight because Sandy Leon, Sale's usual battery mate, is hurting. He literally, to paraphrase Dante from Clerks, wasn't supposed to be here. Also, Cleveland essentially had the game won in the bottom of the ninth when Moreland struck out with Devers at first, then reached when Cleveland's catcher let the ball get away.
It's like it was meant to be, people. And maybe it was…