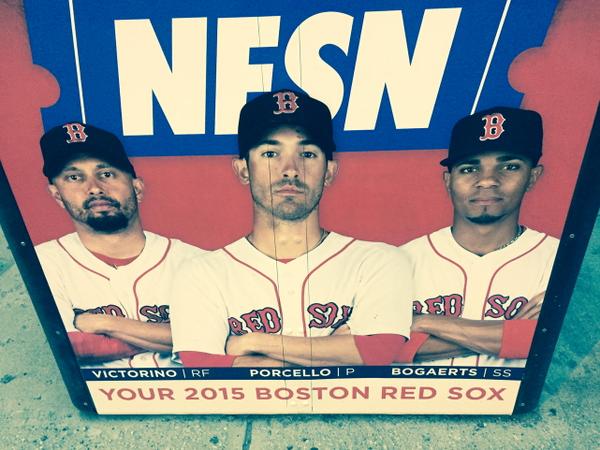 For some time now, I've suspected Rick Porcello of being something of a double agent. Someone who secretly hates the Boston Red Sox and has been sent here to discredit and dismantle our franchise.
And it was surprisingly easy to pile it on slick Rick last year, after management gave him a hefty raise before he'd even thrown a pitch for us. It was even easier once he did start throwing pitches for us and went 9-15 with an ERA scratching 5.00.
Apparently there's a lot to be said for suddenly being the second-highest paid pitcher on the staff. Because now, just one year later, with the glare of the spotlight shifted to David Price, Porcello has been reborn. To the point that every Porcello start has transformed from an exercise in futility to a master class in asskickery. The man is now 4-0, leading the Sox staff in practically every category and one of only five AL pitchers with 4 wins. God help me, I actually find myself looking forward to his starts. And this from a guy who would have rather slammed a car hood on my ball bag than watch another Porcello outing last season.
Tonight's 1-0 Red Sox win was all thriller, no filler. A tight, taut 6.1 shutout innings of 4-hit ball with just 2 walks and 6 Ks. Porcello even helped his own cause with a hit in the seventh inning. Of course, the man didn't do it alone. He got a lot of help tonight…
…from Jackie Bradley Jr., whose home run stood up as the game's sole run:
…from Robbie "Cooter" Ross and Koji, who held the Braves hitless through the 7th and 8th.
…from Christian Vazquez, who throws out runners like goddam Iron Man knocking aliens and robots and shit out of the sky.
…and from Craig "the Finisher" Kimbrel who, for once, extinguished the opposing batters instead of our hopes and dreams.
Look, I'm not so drunk that I don't realize this was against a Braves team that couldn't beat the Muppets, and I'm talking just the Muppets themselves, without their human operators. But watching Porcello spin whatever witchcraft he's conjuring this month has been nothing short of spectacular. Last Wednesday he struck out nine Rays over seven innings while giving up just three runs. Tonight, he struck out six through 6 and 1/3 shutout innings. He is 4-0 with a 3.51 ERA and a 0.94 WHIP and the Earth has not yet spun out of orbit and into the sun, so this is good.
I know it's gonna change. It has to. STOP TELLING ME IT'S GONNA CHANGE BECAUSE I KNOW IT WILL. But for now, just let me enjoy the biggest surprise of the first month of the 2016 Red Sox season: Rick Porcello, Staff Ace.