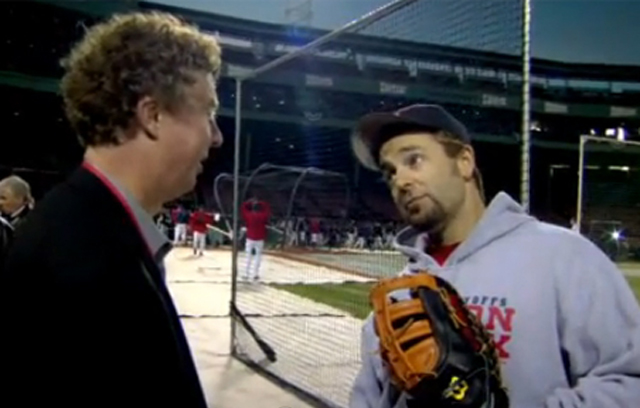 With all respect to Aerosmith and the J. Geils Band, the 2004 Red Sox are the biggest rock stars to come out of Boston. With their beards, hair and no-fucks-given attitude, they somehow managed to shake off one of the franchise's most crushing defeats in the 2003 ALCS and keep an entire Nation screaming, swearing and bloody-knuckled through two unforgettable weeks the following October. And in the center of the whirlwind was Kevin Millar–perhaps not the flashiest player to ever wear the B, but the ultimate cheerleader and one-man uplift mofo party plan when his teammates and this city needed it most.
Last week, Millar was in town to hand out free ice cream at City Hall Plaza as part of his duties as Honorary Good Humor Man and leader of the Good Humor Joy Squad (which, as I understand it, is Earth's second line of defense after The Avengers). I caught up with him via phone for a quick chat before the event.
Red: Are you calling me from the back of an ice cream truck?
Kevin Millar: That's exactly right. I'm raiding the freezer as we speak. We got chocolate eclairs, strawberry shortcakes. I've crushed about three since this morning and I'm probably gonna have a few more. Been lining my stomach since breakfast.
Red: I imagine wherever you go in this city you still get people saying thanks and wanting to buy you a beer.
KM: Truly is awesome to be back, always is. Tell you what, this is just a great city that way. Every time I'm here it feels like home, feels like family. I like to think that the 04 Series changed the culture of this city and I'm proud to be part of those memories.
Red: So going back to 2003 when you go from being let go by the Marlins to planning on playing in Japan to suddenly joining one of the most storied franchises in the game. Did you in your wildest dreams imagine the emotional roller coaster that 2003 and 2004 would bring?
KM: No way. I tell you, that 03 series. We were the exact opposites of the Yankees that year. We're handlebars and goatees and shaved heads and the Yankees were clean shaven and good lookin' and tall and rich. But we made it to game seven of the ALCS in the Bronx. Losing that game… that feeling was miserable and it hurt and it was sad. But then you come back next year and I think you learn from those times. If we hadn't felt the pain in 03 I don't know how we would have handled the pain of being down 0-3 in the 04 ALCS. But that team knew how to handle that pain and it was pretty awesome.
Red: You hear a lot of talk in sports about "the intangibles," but I have to imagine that your ability to keep everyone in that clubhouse loose and optimistic was an important part of your job.
KM: Look, I'm a high energy guy. I love my teammates, I love this game, I wasn't drafted so I appreciate the opportunity to play this game, and I love everything about this city. But there were a lot of leaders in that clubhouse. I may be more vocal than a guy like Varitek or Pedro, their leadership qualities were different than mine, but that was an example of the great mix that we had. We were just a bunch of normal guys. You'd see us out in the restaurants or having a beer, no limos, no VIP service. But we all believed. At the end of the day, we were down 0-3 and we got killed in game three. At that point, you either quit or you keep rolling. You gotta believe, so thank god we believed.
Red: I've long maintained that your "Don't let us win tonight" speech should be taught in schools alongside the Gettysburg Address. I don't think even the most die-hard sportsbook online betting expert could have predicted that. Do you ever look back on that and think, "man, I nailed that"?
KM: It was unbelievable the way that worked out. Truly. It all started with Dan Shaughnessy calling us frauds. I hear that in the morning while I'm in the bathroom and it pissed me off. I got to the field and called Dan out. I said, "Hey, they might be better than us but you can't call us frauds. You gonna call Pedro Martinez or Trot Nixon or Jason Varitek a fraud? The Yankees might be better, but you can't call us frauds." So I said don't let us win tonight. I didn't know how we were gonna win — we were down 0-3 and we had Derek Lowe going against Hernández and it wasn't a great match up — but if we do, look out. We got Pedro in game five, Schilling in game six, and anything can happen in game seven. And it happened. Ortiz homers off Quantrill in game four. The he gets a broken bat hit off Loaiza in game five. Game six we win with the Bellhorn opposite field home run. Game seven, Johnny Damon hits two home runs, see you later. By that time the Yankees are already in a hole and we controlled the whole scene. It was crazy but it was awesome.
Red: You've been a baseball player and now you're a TV personality and father of four kids. Which of those is the toughest job?
KM: Father of four kids is the the hardest, toughest, craziest and happiest job. People ask, "What do you do after baseball?" Well, now I'm dad. You live in Disneyland when you play baseball. You make money, you're travelling to different cities with your buddies. But then you get to another stage in your life and realize how incredible that can be. I enjoy being a dad and I'm having a lot of fun these days. Although my wife tells me, "your son's just like you, you better control him."
Red: You're the eternal optimist. Do the Red Sox have any chance this year?
KM: Oh, man. Nah, I don't think there's any chance this year. Obviously if they go 35-4 then I think they have a great chance to get back in. Thing is, this year the parity's so crazy. I don't think they have a chance because everybody's good. Nobody's great — there's not one powerhouse pulling away from everybody. But everyone's good, and the chance to go off an a huge run is tough. This is a unique season with twelve teams that have a chance to win a World Series.
Red: Alright, last question. You're giving out Good Humor ice cream today. Are you gonna be wearing that white Good Humor Man suit?
KM: No, I didn't get the white suit. Next time I will. Next time I'm going all out. If they let me drive the truck, I'm doing that too. I'll get a different driver's license and everything.