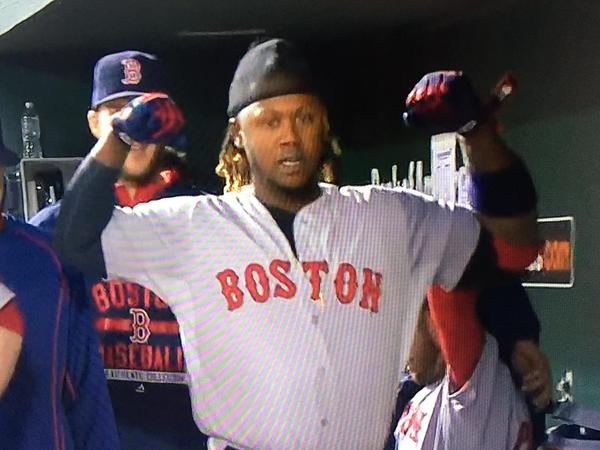 Timely hitting? Solid starting pitching? A couple sweet defensive plays? Sixteen hits including a homer? Against one of the best teams in the game and the reigning AL champs?
What planet is this? Did I fall through a hole in the space-time continuum?
All I know is that the Red Sox came into Kauffman Stadium last night with every reason to roll over. Smarting from on-field and off-field embarrassments, the shittiest team in the shittiest division, looking to ride out a June that's seen us go 8-10 thus far.
But last night, something clicked. Something that gave us a vision of what this team was supposed to be (I'm assuming) when Ben C and crew put it together last winter. The hits came in bunches, and when we needed them most, and everyone was in on the action. Everyone save for Brock Holt, who went 0-for-4, but then Mookie picked him up by going 4-for-5. And we had another home run from HanRam, two more hits from a repentant Pablo Sandoval, and shit like this in the field from the X Man:
I know this team is still a train wreck on fire hurtling down a mountain of ape shit and bound for hell. But for a few glorious hours last night, we got a taste of what this team is capable of. And, hey, they've now won two in a row and three of their last four. Considering all we've seen so far this year, I'll take that as a major victory.