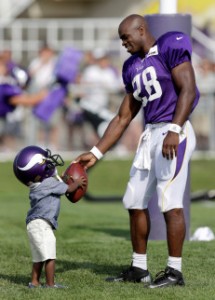 How much worse could it get for the NFL? First the Ray Rice video is made public, forcing the Ravens and the league to take action against Rice. The two-game slap on the wrist was never considered enough by most people, but after the video came out, their hand was forced. Rice's contract has been terminated and he has been suspended indefinitely by the league. The next shoe to drop is whether or not the team or the league had already seen the video. Personally, I have to believe the league had the video all along.
More recently, Adrian Peterson made the headlines for his take on "spare the rod, spoil the child."
Peterson's attorney, Rusty Hardin, issued a statement Friday saying his client's conduct "involves using a switch to spank his son." According to a report by Sports Radio 610 in Houston, Peterson removed the leaves of a tree branch, which he referred to in a police report as "a switch," to strike the 4-year-old child.

The Houston station, citing law enforcement sources, said Peterson told police that the incident — he referred to it as a "whooping" — occurred in Spring, Texas, in May as punishment for his son pushing another one of Peterson's children. The boy suffered cuts and bruises to areas including his back, buttocks, ankles and legs.
Last year, one of Peterson's children died at the hands of the boyfriend of the child's mother. It is unclear 
how many children
 Peterson has.
I understand there are good people and bad people in every sport, but the NFL seems to have more than their share. You don't have to think too hard to come up with other names…Hernandez, Ray Lewis…the league needs to do more.