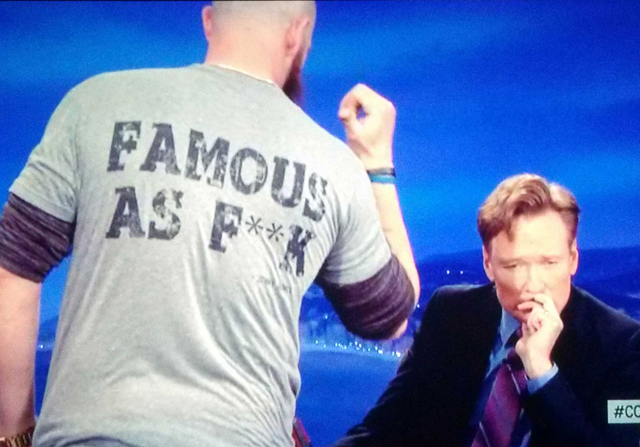 What can we say about a team that currently sits in the basement of the AL East other than: "Man, I hope shit gets better in the second half." And it might. Also, things could get worse, which would likely result in Bobby Valentine, Nick Punto and AJ Pierzynski collaborating on a celebratory rap tune.
But no matter how the Sox fare throughout the balance of the summer, there are still a number of somewhat intriguing storylines to keep us engaged as we slowly draw another beer from the cooler. The cooler marked, "maybe next year."
John Lackey, 20 Game Winner? As we shut down for the All Star break, Mister John "F$%k Not With Me" Lackey holds a 10-6 record, already matching his 2013 win total. It wouldn't be unthinkable to imagine him winning ten more before the end of September to break 20 and put another exclamation point on his post-Tommy John comeback. Of course, it wouldn't be unthinkable to imagine Dennis Eckersley opening a camp for twentysomething female gymnasts, either. But I'll give Lacks the benefit of the doubt. Oh and whether he's with the Sox or some other team down the stretch, once he hits 15 wins, let him pitch in his cowboy hat the rest of the way.
Can Anything Stop Brock Holt? We really couldn't ask much more of Brock as we slide into the late July; he's been one of the more pleasant surprises in an otherwise "balls slammed in the fridge door" kind of season. But the mind reels at what further magic he could conjure down the stretch. Put simply: if the Sox make a run, this is the guy who'll play a big role in it. And I can't wait for the episode of NESN Clubhouse where he introduces the kids to his father, Jor-El.
Will Xander Bogaerts bounce back? Remember back in April when you couldn't have "Xander Bogaerts" in a sentence without "rookie of the year"? As Bob Dylan noted, things have changed. And Xander's interminable slump at the plate has quietly dropped him down the rookie food chain, where he now plays second fiddle to the likes of Brock, JBJ and Mookie Betts. Here's hoping he can re-find the groove that made him so much damn fun to watch during the 2013 post season.
Who Stays/Who Goes: Admit it, ever since Nomar was sent packing in 2004, the trade deadline has brought us hours of unbridled excitement. Of course, sometimes that excitement is named "Rick Aguilera" and we all start crying as the sky catches fire.
Can This Team Make the Playoffs? My gut tells me no. But then my heart boozes up and punches my gut square in the face. What the f#$k does my gut know anyway? Damn thing's too full of cheap beer and Hostess cakes to think straight anyway. Here's what I know: As of today, right now, as I type this, the Sox are 9.5 games out but still mathematically in contention. And until the numbers say otherwise, I have to say it could happen. All I know is that in the post-2004 world, I've learned you always bet on the Red Sox (and if you want to learn more about betting on the Red Sox online, click here).