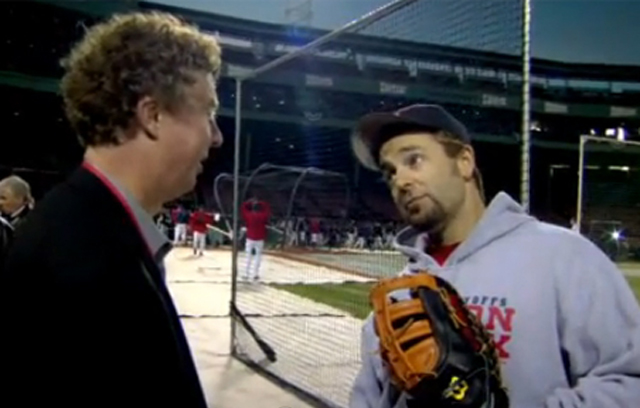 I don't know whether it's the way this year's Red Sox team has been stumbling out of the gate or the fact that we're nearing the celebration of its ten year anniversary or the downright refusal of New England weather to acknowledge that it's springtime, but I've been spending an inordinate amount of time lately watching and re-watching "Four Days in October." Which, of course, is ESPN's recap of the last four games of the 2004 ALCS between Boston and New York.
What I've learned, the more I've watched it, is that no matter how many more World Series championships we win, no matter how many Red Sox teams come and go, the 2004 edition will always be my favorite.
And with good reason. Despite our subsequent successes in 2007 and 2013, 2004 has always been my go-to cure for all ailments. Bad day at the office? Nothing "The Steal" can't cure. Life kicking me in the nuts? Time for Millar's "Don't let us win tonight" speech. Doctor tells me he wants more tests? Not until I'm done watching Damon take Vasquez deep for four magical runs.
I'd like to say that I spent game seven in a swanky hotel room, swinging from the chandelier, hopped out of my mind on Strohs while college girls in Sox Addict shirts held a pillow fight and the band I'd rented for the occasion tore through "We Are the Champions." Fact is, I was sitting on a couch with Denton (maintaining the mandatory five feet of personal space between us, of course), going out of my mind with every passing inning but still keeping my fingers crossed, even when it was apparent to everyone that we were finally the ones sending the Yankees packing, not the other way around.
Even though it was over by the second inning. Even though we were fated to be handpicked by the Gods and dipped in awesome that fateful season, it was inning after inning of hold your breath, drink your beer, swat at the walls and don't mention the past.
Because to that point, all I'd known was that when everything was on the line, we couldn't beat the Yankees.
I was too young to recall 1978. But I remembered the train wreck that was the 1999 ALCS. And, of course, the sight of Timmy Wakefield walking slump-shouldered off the mound as all of New York erupted around him just one year earlier.
But then, here we were. Stuffing them in the locker. Swiping their lunch money. Silencing their bats and their fans and their announcers. At long last, we were the ones smiling and jumping and smashing beer cans against our heads as the final outs were made.
It was odd and uncharted territory. Watching the game, I didn't quite know whether to laugh or cry, shit or wind my watch, drive the hookers home or ask them to gather six of their friends.
Those first couple innings are like a favorite movie I can watch any time, any place, anywhere. We came out of the gate like gangbusters with a couple hits and a Papi home run in the first. Then D-Lowe shut 'em down, 1-2-3. Then we were at it again, with a Millar single and walks to Mueller and OC, followed by a Johnny Damon grand slam. Somewhere in the blur we had a home run from Bellhorn, another from Damon, and a bizarre Pedro Martinez cameo. The Sox unleashed 13 hits. The Yankees could only muster 5.
But I never relaxed, never sat down, never raised my hands in victory until that final out. I mean, how could it happen? A few days earlier, we were toast, teetering on the edge, about to go down like Chelsea whores against our bitter rivals without any semblance of a fight.
Then there was The Steal. And suddenly they were James Caan, tied to the bed and begging us to end the torment, and we were Kathy Bates (only, of course, slightly hotter), looming ominously with sledgehammer in hand, ready to do God's work. When it was finally over, when Ruben Sierra tapped that Alan Embree offering ever-so-gently to Pokey Reese, I just collapsed on the couch, beer and adrenaline coursing through my veins. The World Series, though unstoppably awesome in its own right, was almost anti-climactic in the wake of this. Because it was the mirror-image version of the 2003 season-ender; the perfect revenge fantasy as if scripted to the letter.
And speaking of The Steal, you can't watch Four Days in October without being reminded of The Walk — Kevin Millar's inexplicable base on balls against the game's most elite closer that set the wheels in motion. Millar is front and center throughout Four Days and with good reason. He was the de facto hero of 2004, the guy who kept his head up and spirits aloft even as all kinds of shit hit the fan. I don't care how much you buy into the "Idiots" brand, as a pro ballplayer, you don't fall 0-3 to the Yankees in the ALCS without a healthy dose of bad vibes running through your veins, especially on the heels of 2003's bitter ending. Millar may not have been the most potent weapon in our arsenal, but his ability to deflect the slings and arrows directed at the Sox — and his exchange with Dan Shaughnessy in the film is one for the time capsule — allowed his teammates to keep their focus where it belonged. Namely, climbing back into this thing.
It's been almost ten years and somehow, it still feels like yesterday. And it was simply f@#king brilliant.
Good news, in case you missed it, is that the whole bloody thing's available on YouTube. So shut off the TV, turn off the phone, close the blinds, lose your pants… and enjoy.