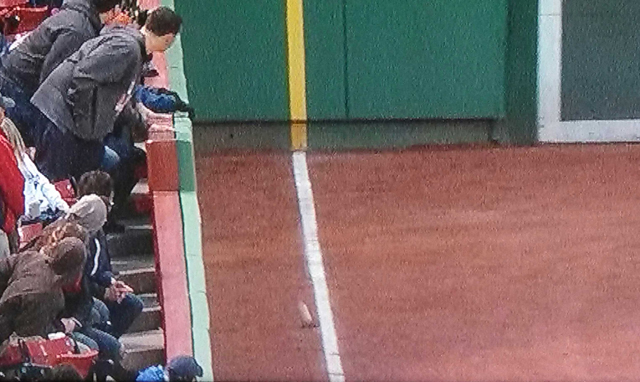 Just so we're all aware of what the brave new world of "challenging calls" in the MLB will be like, the ball in the photo above was called fair when Nick Markakis initially belted it into Fenway's left field corner for a double. Then John Farrell challenged it, a reasonable decision since the NESN feed — from which the above screengrab was pulled — clearly showed the ball dropping in foul ground, even kicking up dirt that covered the foul line.
But the powers responsible for ruling on these challenges from that secret MLB Replay Center on the moon were apparently unwilling to believe his/her/their eyes. And the fair call stood. And a moment later, Markakis scored the first run of the game.
Makakis' response to the hoopla was just what you might expect: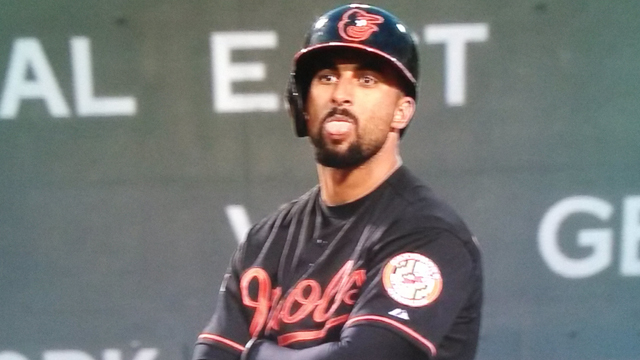 That errant call was, perhaps, the first sign that things weren't going to work out for the Sox last night. And they didn't. For the second straight start, Lackey looked weak. But the problems went far beyond him. The Baltimore offense was relentless, and every time we had a chance to move a couple steps closer, we cleared the way for them to run ahead of us.
This was perhaps most obvious in the fifth inning, with the Sox down 4-1, when a ground ball that should have been the third out got past Carp, opening the door for two more Oriole runs.
Later, in the seventh, with the Sox down 7-3 — not an insurmountable deficit with Ortiz available for pinch hit duties — Boagerts knocked in Napoli to close the gap to three runs, but then got thrown out trying to extend his hit to a double.
In the eighth, the Sox still down by three, Brock Holt led off with a single, but the next three batters — Sizemore, Nava and Pedroia — went down with a whimper. And that was pretty much the end.
There's still something about this Red Sox team that seems gelatinous. They're getting hits, just not when they need them most. And pretty much every starter has shown some Jekyll and Hyde tendencies thus far.
Maybe Marathon Monday will be the unifying event that gets everyone on the same page. Until then, we can only hope that Doubront keeps the Baltimore bats in check this afternoon.