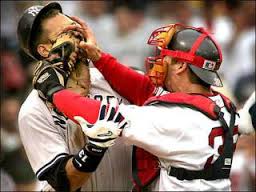 Here in New England, the days are getting noticeably longer and the snow if finally starting to melt. That means one thing in these parts: baseball.
The Red Sox are back in Fort Myers and Opening Day is beginning to feel like it's right around the corner. What better way to get ready to defend the World Series title than to start laying the smack to the Yankees? That's what Lucky Larry seems to think:
"We're very different animals. I'm proud of that difference," Boston's president and CEO said in Fort Myers. "I always cringe when people lump us together. Other baseball teams sometimes do that. They are still, this year at least, relying heavily on their inimitable old-fashioned Yankees style of high-priced, long-term free agents. I can't say I wish them well, but I think we've taken a different approach."

Yankees' President Randy Levine returned fire:

"I feel bad for Larry; he constantly sees ghosts and is spooked by the Yankees," he told the Daily News. "But I can understand why, because under his and Bobby Valentine's plan two years ago, the Red Sox were in last place. Ben Cherington and the Red Sox did a great job last year winning the World Series, but I'm confident Cash and Joe and our players will compete with a great Red Sox team to win a world championship this year."
It's all a far cry from the "Evil Empire" stuff and Pedro rolling raging bull Don Zimmer down the mound, but it's a start. Yes, it's starting to smell like baseball.