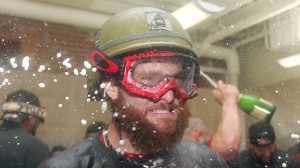 Well, now it's a three game series. Another head-scratching, nail-biting, blood-pressure-raising game. After Saturday's ending, is anyone surprised game four ended with a pick-off?
Toss all the stats in the trash can, the only one that matters is this: the Sox are 2-0 in games when they don't make ill-advised throws to third base.
Jon Lester in game five. Believe.