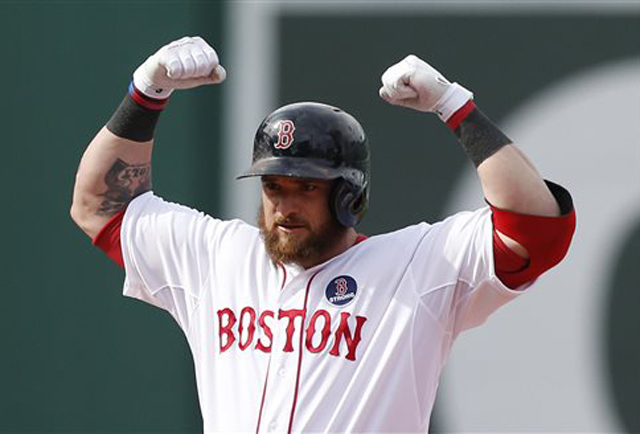 Coming into game one of the ALDS between the Red Sox and Rays, there were a lot of questions: Would the Rays, running on pure adrenaline, be better positioned? Would the Sox offense be neutralized by Tampa Bay's tough pitching? And has Mike Napoli showered since the AL East clinching celebration?
For the first three innings, I really didn't know what to think. Jon Lester was throwing fire, undone only by a missed call on what what should have been a third strike to Sean Rodriguez who followed up with a home run. Then, in the top of the fourth, Ben Zobrist went yard, too, prompting me to reach for that Maalox-Vodka cocktail I keep close by during the postseason. Meanwhile, the Red Sox were hitless, making me wonder aloud if the long layoff between clinching and the playoffs had somehow hurt them.
Then, as it so often does, shit got real, fast. Pedroia led off the bottom of the fourth with a hit, then Papi crushed a towering fly ball to right that Will Myers should have handled, but inexplicably let plunk down to earth right behind him and bounce into the bullpen for a ground rule double.
Cue flood gates.
Gomes then doubled off the wall to tie the game, then Drew legged out an infield hit that The Freewheelin' Gomes scored from second on. Then Middlebooks drove in Drew with a hit. Then Ellsbury reached first on a passed ball third strike. Then Victorino drove him home with another hit. The inning got so crazy for Tampa Bay's defense, I half expected the Fenway organist to bust with the Benny Hill theme.
The Sox went on to score 12 runs and turn it into a laugher. When the dust settled, every player in the Red Sox line up had at least one hit and scored at least once, which is more than a lot of us imagined we'd be able to conjure against Matt Moore. While the hit parade motored on, Lester regrouped and came correct, working into the eighth and at one point retiring 11 in a row.
In other words, it was exactly how we needed to start the ALDS. With the prospects of facing David Price today and never knowing what Lackey will bring — not to mention our offense's odd habit of shutting down whenever Lackey pitches — having that first win in our back pocket is critical. At worst, we head to Tampa Bay tied 1-1. At best, the bats can keep on cranking and we go up 2-0.
Beating Price won't be easy. But I wouldn't call it impossible. Coming into game one, Tampa Bay had the momentum while the Sox, well, they had some days off to reflect. Now momentum has swung in our favor. If we can find a weakness in Price's armor and steal a win today, the series is as good as over.