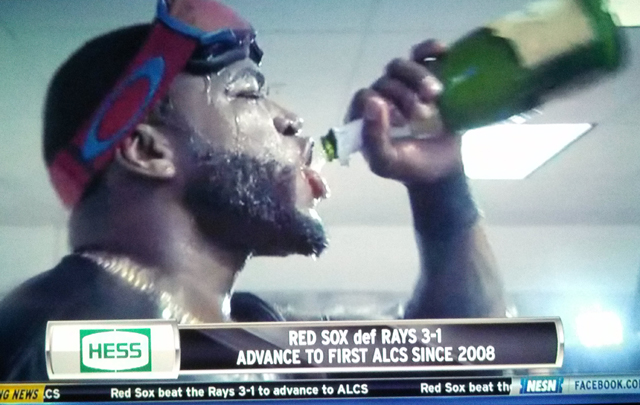 Roughly 24 hours after game three raised my blood alcohol content to "Curt Leskanic," the Red Sox got down to business, finishing off the Rays in dramatic fashion at the Trop and advancing to their first ALCS since 2008.
There was an ass load of drama and detail packed into those nine innings and I'm way past the hallunicatory stage of sleep deprivation, but let's just say that Jake Peavy was a beast, going 5 and 2/3 and giving up just 5 hits and one earned run. He gave way to Craig Breslow who assumed the role of Alan Embre circa 2004, going one and 2/3 innings and striking out four. Meanwhile, a sweet combination of base path speed, Rays ineptitude and Fernando Rodney wildness helped us cobble together three runs despite our meager offense. Once Koji came on to get four outs, it was lights out.
So here we are. Last year at this time, we were wondering how deep our team had sunk, and if we'd ever get out of that hole. Today, we're going to the ALCS. Which starts Saturday night. At Fenway Park.
In just one year, we've gone from the outhouse to the penthouse. Literally. It's almost too much to absorb.
Congrats to the 2013 Boston Red Sox.