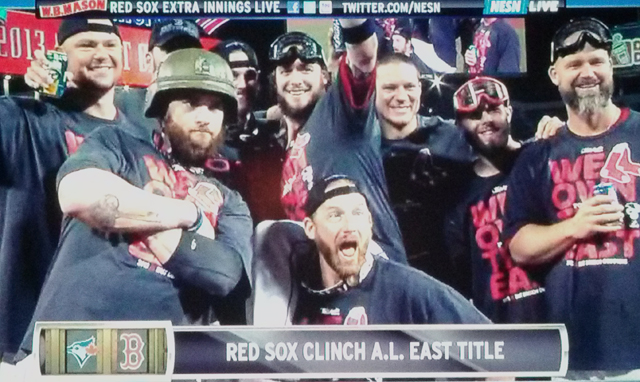 Last night, the Red Sox put an exclamation point on their unthinkable comeback, winning the AL East just one year after schlepping through the shittiest season of my lifetime.
When the dust cleared last September, my only hope for the 2013 team was that they'd remember to put their pants on before taking the field; that's what the Bobby Valentine Era reduced me to. But just a few hours ago, the players were chugging champagne and cheap beer, high-fiving and grab-assing in a manner I thought I might never see again after the implosions and squabbling of the past couple seasons.
It's a testament to ownership's decisions to mix things up, jettison the likes of Beckett, Gonzo and Crawford, bring in a group of 2004-esque knuckleheads, and put John Farrell at the helm. In May, I was wondering if this team could ever re-stabilize itself. Now my only question is how far they're gonna go. 100 wins? AL champs? Their third World Series title in less than 10 years?
I joke about this season being an embarrassment of riches. But it has been. Just look at the pitching. Lester has returned to form. Buchholz is operating at almost super-human levels. Lackey — comeback player of the year in my book — is literally a man reborn. Koji Uehara has been a revelation, seemingly conjured from thin air. And Peavy–christ, was there anything cooler than watching him cavorting with his (relatively) new teammates during the post-game celebrations? If he was still in Chicago, he'd be tuning up his cross-country skis this weekend. Instead, he's making a push for the World Series.
There's so much more to talk about but the beer has rendered me useless and the awesome of this team is almost too big to digest right now. I hope they go all the way. But they've already given me more than my money's worth.
Congrats to the 2013 AL East champs!