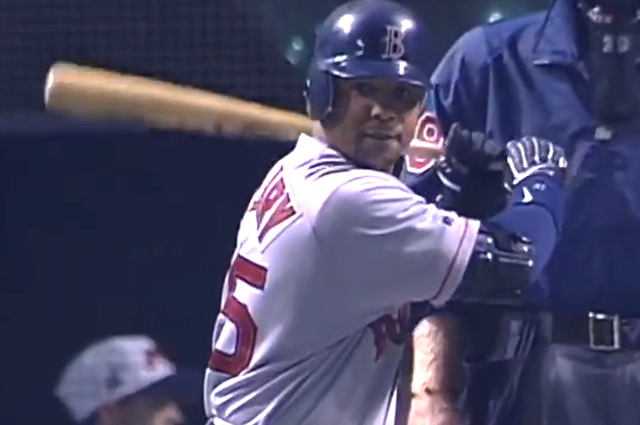 St. Patrick's Day was this week, which means I was going to make the inevitable joke about Troy O'Leary being Dublin's favorite son. And whilst making that sophisticated joke to my colleagues, I fell down a Troy rabbit hole that lead me, of course, to the 1999 ALDS. Because when you talk about Troy O'Leary — a career .274 hitter who worked the outfield in a tidy but unspectacular fashion for the Red Sox during the lean years of 1995 through 2001 — all roads lead to game five of the 1999 ALDS.
This was the game for which he'll always be remembered in my house. And had we made it through the Yankees in the ALCS and somehow won the 1999 World Series, Troy would be bigger than Dave Roberts and at least one of the Beatles in this town.
If you were watching, you know how it went down. In the deciding game of the ALDS between the Sox and Cleveland Indians, Boston was down 5-3 in the top of the third when Cleveland decided to walk Nomar to load the bases and try their luck against Magic Troy. It's a good move and you have to respect it. But then Troy responded with a towering kick to the nuts in grand slam form, immediately giving the Sox a 7-5 lead.
Later on, in the seventh, with the game tied 8-8 and a man on, the Indians again walked Nomar to get to O'Leary. A roll of the dice that most of us would call sensible. I mean, this is Troy O'Leary. What's the worst that could happen? I'm no Vegas oracle or distinguished veteran of the Olybet website by any stretch. But I'd have taken my chances with those odds, too.
We know how that one played out. In a Red Sox baseball moment that defied pretty much anything we'd seen at that point in our lives, Troy went yard again. AGAIN! Hell, I think they could hear me screaming halfway to Venezuela. And in those pre-2004 days of slim luck and bad tidings, it was a rare reminder that the Baseball Gods sometimes blessed our team, too. For further reading, ask Mike Hargrove about how his 1999 playoffs maneuvers earned the trust and love of Cleveland ownership.
More than twenty years and four World Series titles later, this clip still gives me chills. And it still absolutely, positively makes no sense whatsoever.
Thanks again, Troy.