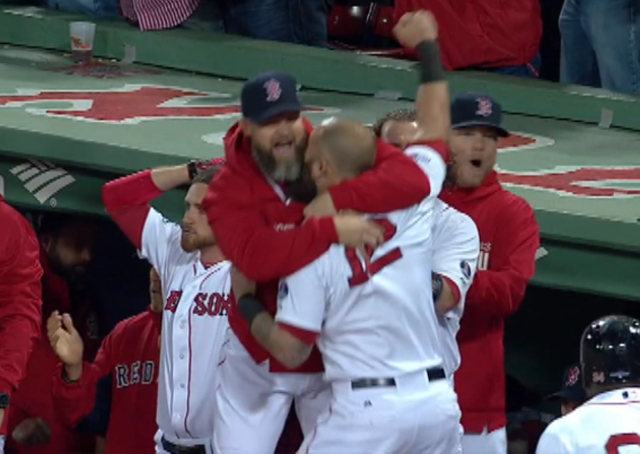 When you come to my house for Thanksgiving, there are a few things you have to just accept. First, you'll be sipping cider from my extensive and impressive collection Red Sox drinkware. Second, I'll be drunk around 2:00pm and might fall down some stairs, throw up off the deck or try to feel up your Aunt. Last, and most important: you'll be watching the Red Sox. This year I'm pulling out the 2013 postseason DVDs, and I've already fallen down the rabbit hole.
This might be the breakfast whiskey talking but in my mind one of the most iconic images of the 2013 postseason, right after Torii Hunter going tits-up into the Red Sox bullpen, was the sight of Mike Napoli and David Ross engaging in the world's hairiest embrace after Shane Victorino hit a grand slam in game six of the ALCS.
In the 2013 World Series film we get to hear a little bit more detail behind this magic moment. And it is simply awesome (although the thought of Mike Napoli giving David Ross a hickey may not make digesting your Thanksgiving dinner any easier):
Yeah, there was a lot of goodness packed into that postseason. Ortiz giving his now-famous rallying call during game 4 of the World Series. The emergence of Xander Bogaerts. John Lackey going full nuclear and earning every cent of his contract in October. But the Ross/Napoli bromance is one thing that sticks with me. Glad to see that the lads will be reunited in Chicago.
And with that, we'll leave you to your turkey and stuffing. Thanks to the folks who continue to make Surviving Grady part of their day, either here or on the Twitter. Your patronage is always, always appreciated.
Here's to you and yours. And even better things in 2020.