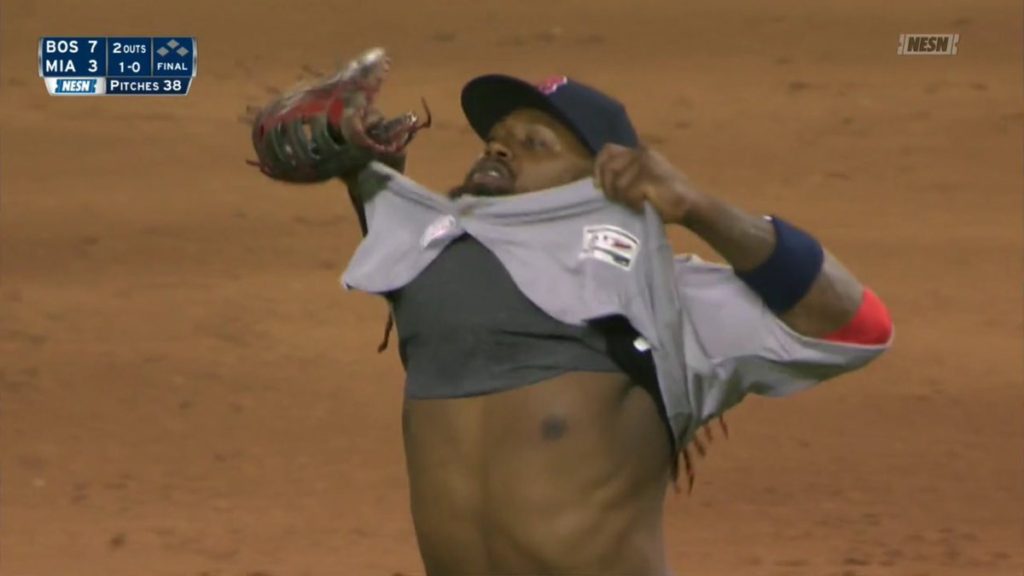 Last night, as the game ended and the Sox rolled to their fourth straight win, NESN cameras caught Hanley Ramirez tearing off his shirt. No big deal from where we're sitting, chief. This is Hanley. This is the kind of shit he does. Guy hit his first home run of the season, so this should be expected. Let the man drop his shirt and pants and hop the left field fence. Hanley being Hanley.
But then later, on Guerin Austin's Twitter feed, came the story behind the de-shirting. Turns out Hanley promised his jersey to a sick kid if he hit a home run:
Hanley goes into the stands- gives a kid his jersey and signs it. #RedSox pic.twitter.com/j4v2U1smDi

— Guerin Austin (@guerinaustin) April 3, 2018
Goddam it, Hanley. Now you've messed up my summer. I could always count on you for an ill-timed slump or a strikeout in a key situation. Now what the hell am I gonna do? Scream at the guy who made some unfortunate kid's dream come true? It's the Nice Guy stuff like this (and HanRam does a lot of it) and all the positive vibes it buys you that leaves me and my fellow miserable bastards with precious little to whine about. Fuck.
Alright, you've made your point. This may be your last home run before the All Star break, but I'll be cheering your ass on regardless. Now get the hell out of my office!