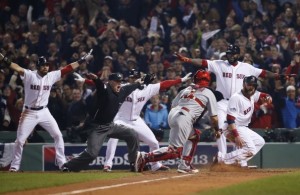 Disclaimer: I am not saying the Red Sox are a lock to win the World Series in 2016, so save your venom.
Remember when the 2013 season started? Red Sox fans were reeling from the historic collapse of 2011 followed by the Valentine Massacre. So, when the Sox started hot (18-8 in April) to open the 2013 campaign…let's just say most people weren't convinced they were for real. Some people, one named Denton, didn't get on board until the final out of the World Series.
Fast-forward to 2016. Red Sox fans are reeling from back-to-back last place finishes. So, when the team starts out hot (14-8 in April)…should we be on board?
I'm a glass-half-empty kind of guy (unless it's a cold glass of chocolate milk, then it's completely empty) and I just can't picture this season ending with a championship. And here's why…
John Farrell: Yes, he was manager of the championship 2013 Red Sox, but was it because of him or despite him? My opinion has always been that you could have put Puppet Red in charge after what Bobby Valentine did and the team would have won a championship out of pure relief. Looking at his full body of work, I think it was simply an aberration.
Team Batting: The team is ripping the cover off the ball, top of the line-up to the bottom. As a whole, they are batting .296 with a .357 OBP and slugging .484 with an OPS of .841 – I just don't see any of those numbers being sustainable. The record for the highest team average is .316 from back in 1921. The record for highest slugging percentage is .491 (2003 Red Sox!). So basically the team would have to perform at near-record pace in all categories to maintain this pace. Doubtful.
Team Pitching: The Sox have a team ERA of 4.22 – mostly thanks to Rick Porcello (3.51) and Steven Wright (2.52). Understanding that David Price should improve his 5.53 ERA, will he improve his winning percentage of six wins every nine starts? Probably not. And if Wright and Porcello start to fade, well, where does that leave us?
Team Youth: The 2016 Red Sox are a young team across the board. For the big picture, that's a great thing. For this season it may be a negative. How many of these kids have ever played 120 or 130 games before? Odds are they start to hit a wall in September and October…just when we need them the most.
The good news is, I don't see this team imploding and finishing last…again. The bad news is I don't see them making a deep playoff run if they even make the playoffs.