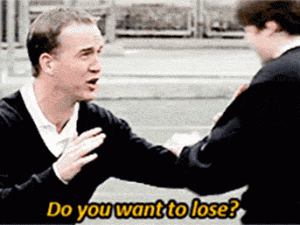 The Sox dropped the Marathon Monday game in a creative and painful way. Let your ex-closer flounder around until the game is tied and the bases are loaded, then bring in your current closer to fan the flames of doom. Just like that it's 4-1 Jays. The Sox rallied in the ninth but fell short. Miraculously, Farrell pinch hit for Chris "he needs the at-bats" Young but to no avail. The rare quality start by the Clay-man is squandered.
The real travesty of the day was watching David Ortiz rot away on the bench. The Farrell-defenders will say it was a bad match-up (Ortiz is 3-for-13 with a couple of walks against Happ). I say to hell with match-ups on a day like yesterday.
Big Papi made one of the most memorable speeches in Boston sports history following the Marathon bombings in 2013. "THIS IS OUR FUCKING CITY" is still echoing in corners of the world, yet the man who spoke those words was relegated to the bench on the second anniversary of the event. Unacceptable.
The Sox are now 6-6 on the young season. Exactly where they should be with Farrell at the helm. I'put them at 8-4 or maybe 9-3 with a decent manager. I challenge anyone to name a single game you could point to where one of Farrell's moves won the game.
This will be a .500 team all year until they dump his ass.