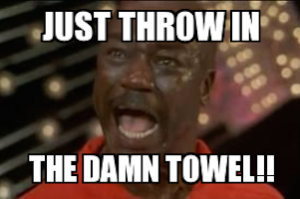 The Red Sox are now five games under .500 and their super-powered offense has scored two runs or less in nine of the last eighteen games. Is it time to throw in the towel? Push the panic button? Circle the wagons? Or, is it time to can John Farrell and find a manager who can get these guys playing with some balls?
Fact: the only time the Sox played with any heart is after Juan Nieves was fired and Edward Mujica was designated for assignment. Did anybody really think Nieves was the entire problem? The reality seems to be that the team got the message that jobs were at risk and played with some intensity for a while. It just didn't last.
Everyone is all excited about the sudden home run and RBI production from Mike Napoli? He's hitting .206, get a grip. Nobody is hitting .300 on the team. Two of the five starting pitchers have ERAs over six. The team is on pace for 72 wins. Seventy-fucking-two. That means no meaningful baseball after the 4th of July once again.
Time for a real manager. Yes, John Farrell was at the helm when they won the 2013 World Series. The thing is, it wasn't John Farrell that was the reason the team played so well, it was the simple fact that it wasn't Bobby Valentine managing. Extending Farrell after last season was a joke, more evidence that Ben Cherington should be sent packing as well.
While we're making changes, how about some of this?