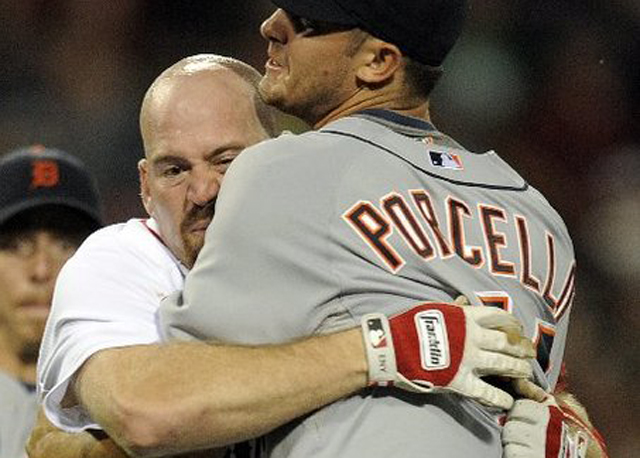 Moments after the Red Sox stomped the Phillies to kick off the 2015 campaign, the team announced they'd signed Rick Porcello — the same Rick Porcello they said they'd tabled contract negotiations with until after the season — to a four year, $82.5 million extension. That's a lot of money for a guy whose "career year" was just a notch above .500. But it's a reasonable gamble in an industry in which teams are essentially printing money up in their ballpark cellars.
On the plus side, Porcello's young, so the Sox are getting him in his prime. There's still a lot of time to see if he can be molded into an ace. Or if not an ace then at least a pitcher of "ace like" proportions. And that's not some veiled reference to Ace Frehley, although his new solo disc is very good and worthy of your time.
The four year deal also works for both parties. It prevents the Sox from being saddled with long-term dead weight if Rick goes tits-up. It also gives Porcello the motivation to transform himself into an elite pitcher who could command Scherzer-like bucks when his contract is up. Remember, Porcello will only be 31 when he's a free agent–the same age as Jon "Mr. $155 million, I'll Get The Large Fries Whenever I Damn Well Feel Like It" Lester.
Porcello also seems like a stand-up guy and solid teammate, at least from I could gather from his piece on Derek Jeter's blog, where he discusses his rationale for signing (among the reasons not given: "They've made me rich.").
But there's another reason to believe he'll be just fine in Boston: the fact that he once tussled with Kevin Youkilis. I was at that game in 2009 when Youk charged Porcello after getting plunked. And if you've looked into the eyes of a deranged hillbilly, rolled around on the ground in his sweaty embrace (remember, Youk was good for about 45 liters of sweat per inning) and lived to tell about it, the slings and arrows of Shaughnessy and crew just won't matter none.
Let's go back to that magical evening, shall we.
Here's hoping the Red Sox brass gets Youk on the field for Porcello's first Fenway start for a photo-op burying of the hatchet handshake. Now that would be a fine baptism into Red Sox Nation.