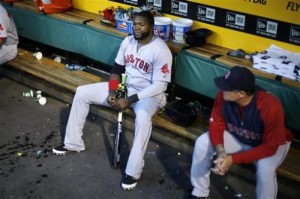 The Red Sox lost season ends in six days, setting the stage for a very important off season. The roller coaster ride of the last three years has got to end, and that means making some legitimate moves to improve the team this winter. No more Stephen Drew signings or other scrap heap acquisitions like AJ or Grady, this team needs some upgrades.
Trading Lester was a mistake, there can be no argument there. As much as I don't like Lackey, the Sox would have had him for $500,000 next season, another bad trade. With Koji melting down and Buchholz being unstable, there isn't a lot to build a pitching staff around. The same could be said for the position players. Other than Pedroia and Ortiz, there are very few sure things taking the field. Not to mention the guy at the helm.
As great an accomplishment as 2013 was, it was a fluke. The prefect storm of overachievement and luck. If not for that, we would be looking at three shitty seasons. If the Sox don't re-sign Lester, and I have zero confidence they will, they need to go out and get a front-line starter. For the first time in a long time, the winter will be more exciting than the season was.