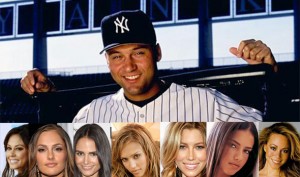 First things first: I generally watch the All Star Game , and I usually enjoy it. This year, I made it through about 15 minutes before I was all Jetered out. I know you've heard all the complaints already – the million times Jeter's name was mentioned, failing to acknowledge the passing of Tony Gwynn and Don Zimmer, the meatball Wainwright tossed and the fake apology – it all adds up to an epic fail.
Second, I have a lot of respect for Derek Jeter. On the field he plays hard, made clutch plays with the glove and the bat, and plays the game the right way. Off the field, he banged some of the hottest chicks out there. That doesn't mean I like the guy. I always hated that cocky little smirk and I also think he's extremely overrated. He should never have won a Gold Glove, and as a hitter, he's been surrounded by the best bats money can buy for his entire career.
Which leads me to something I haven't heard mentioned at all about the ASG fiasco – why was Jeter even there? He's a career .311 hitter who averages 16 home runs, 78 RBI and 32 doubles. This year he's hitting .272 with two home runs, 25 RBI and nine doubles. I know it's just a popularity contest but doesn't there have to be a line drawn somewhere? Those are Jed Lowrie numbers and I didn't see his face at the game.
My biggest wish out of all this is that the American League wins the World Series in seven games, thanks to having home field advantage. And thanks in part to Adam Wainwright. And there's this…how are Dennis and Callahan, or any WEEI sports show for that matter, still on the air? At least only a few people heard the rant. Thank God, the real product returns tomorrow.