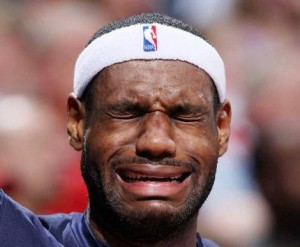 The Sox lost again, nobody was surprised. But let's talk about basketball for a minute. Last night, the San Antonio Spurs completed their team basketball clinic at the expense of the Miami Heat. The show they put on in the past five games has been nothing short of awe-inspiring to watch.
In game one, we got to see LeBron James quit on his team with "leg cramps." In game three, the so-called king was shut down, scoring exactly zero points in the fourth quarter. Last night, James was stalking all over the court with his "I'm a badass face" on when the Heat were up 22-6 and he was scoring at will in the first quarter. By the end of the game, he was back to being baby-Bron-Bron, pouting at both ends of the court and finally taking a seat on the bench with his head in his hands as the Spurs went on to win the championship.
After his performance in the finals, people need to stop putting him in the same conversation with Bird, Magic, Jordan and the rest of the real greats. James is a freak athlete, but he lacks the mental toughness and the raw instincts to be at the top of any lists. This year's finals is more proof. He just doesn't have what it takes, and he never will.
Congratulations to Tim Duncan and the Spurs for a great team effort.