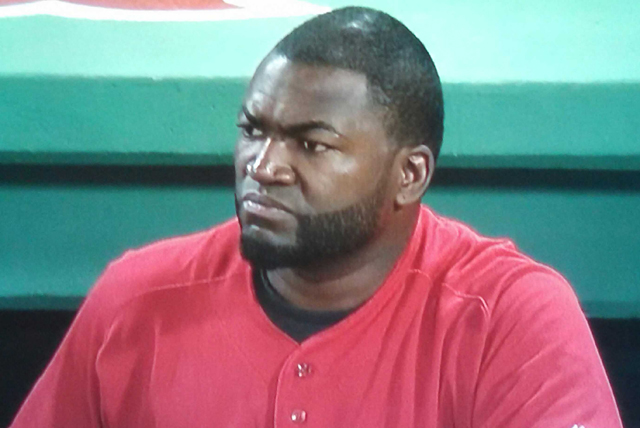 If the 2014 Red Sox were looking for something to rally around to drive this season's campaign, last night they found it: a desire to bury the motherf$%king Rays. Because this game made last Sunday's dust-up at the Trop look like a kissing booth.
Shit started almost right out the gate, with David Price — the "master of ball control" — plunking David Ortiz in the back. This elicited a warning to both teams and Farrell getting bounced. Oddly, when Price struck again a few innings later, hitting Mike Carp on the wrist, El Uglito was allowed to stay in the game. Carp was understandably baffled by this (or as the French might say, "super f#$king pissed") and the benches emptied, with a howling Ortiz leading the charge. Later, Brandon Workman threw behind Evan Longoria and got ejected, leading us all to the conclusion that the warning only applied to the Red Sox–a point made clearer when the Rays hit their third batter of the night, Jonny Gomes, without earning an ejection.
Beyond all the drama, this was another great game for the Sox. In fact, I'll call it the best game of the season thus far. More importantly, it was our fifth win in a row.
Workman threw a serviceable 5.1 innings, giving up two runs before the bullpen came in and shut Tampa Bay down. Meanwhile, Xander Bogaerts continued to whack the paste out of the ball, going 3-for-5 including a double that tied the game at 2-2 in the seventh. The tie was eventually broken in the bottom of the tenth when Pierzynski laced a triple to dead center with a man on first.
Oh, and with every other team in the East losing, we picked up a game on the Jays, and now stand 6 games back.
As you can imagine, for pure anger and adrenaline, this one was tough to beat. Here are some shitty vines to help you relive the magic. Be sure to get the sound on that last one, in which Ortiz basically tells Price to lay down the next time he sees him. Because shit got real.
I think this weekend just got a hell of a lot more interesting.