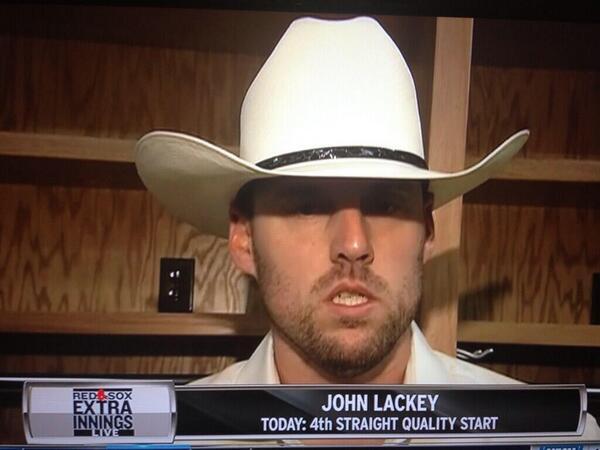 So the Red Sox have lost seven games in a row. Even worse, as a number of astute folks have pointed out, their current record is actually worse than it was at this stage in the Bobby V era. The starting pitching has been looking rather Vaughn Eshelman-esque. The hits don't come when we need the hits to come. And this weekend's series between the Sox and Rays is pretty much a battle for last place.
Simply put, something's gotta give, and someone's gotta right the ship.
So who better to have on the mound than that guy up there in the cowboy hat.
My not-so-bold prediction is that the next stage of the John Lackey Revival Tour, which already includes a stellar 2013 ALCS victory and the World Series clincher at Fenway, will be snapping this god awful stretch of losses and getting the Sox back on track. Yes, I know my predictions so far this season have been for shit. But I also know that cheap booze heightens my extra-sensory perception. So f$%k you, stats and science.
Seriously, though, this is just the job for Lackey. Let him wear the goddam hat and carry a .45 in his jock if it makes him feel more at home. I just want to see a win. Anything to lift our spirits and change our fortunes.
This season isn't over by a long shot. I beg you, John Lackey, to make it stop feeling like it is.