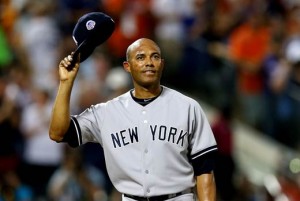 Listen up, we all hate the Yankees, but there are times, few and far between, when you just have to show respect. Mariano Rivera has been in pinstripes his entire career, and somehow, I've always liked him. He plays the game the way it should be played and he has dominated as a closer for as long as I can remember. He respects the history of the game and pays tribute to Jackie Robinson every time he steps on the field.
Tuesday's entrance to his final All Star Game was epic. The game itself is a farce, but it's moments like that one that keep the game a tradition. Joe Nathan handing him the game ball was a classy move as well. One of my favorite Mo-ments (besides the ones Ortiz took him deep in the ninth) was Opening Day 2005. It had to be a tough day, standing at Fenway watching the Sox get their rings. But when the crowd gave him a standing "O" when he was introduced, he acknowledged it with his trademark smile and a tip of the cap.
While giving him the MVP of the All Star Game was more of a career achievement award, I was fine with the gesture. He's a first-ballot Hall of Famer and one of the game's good guys.