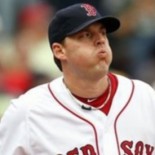 It seems no matter how well the Red Sox are playing, the West Coast swing is always a ball-buster. In many a past season, the mid-to-late-summer trip would be the death knell for playoff hopes. With the 2011 team just finding their groove, this will be a tough test.
Two words: John Lackey. It's time for the big-money free agent to earn his pay. With Dice-K stating his case yesterday that he can get it done, Lackey remains the biggest question mark in the rotation. He'll take his 15.58 ERA against the 8-8 Athletics to get this road trip started.
Skipping Lackey's last start get him away from Fenway was smart. To look ahead and see that it would put him in Oakland was genius. Lackey has dominated the A's over his career, going 17-5 with a 2.90 ERA in 31 starts. As a member of the Red Sox, Lackey went 1-1 with a 4.58 ERA last season.
If Lackey stumbles again tonight, it's time for drastic measures. A blood transfusions with a little Beckett blood, or sweat transfusions with some Youk perspiration perhaps? Or maybe Tito and the rest of the rotation taking Lackey to a seedy part of Oakland for a little "chat."
Hopefully it won't come to any of that. I mean, Theo had to see something in this guy, right?