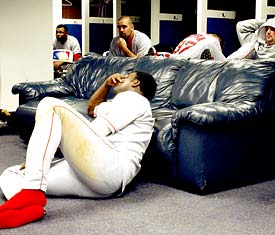 I'm done.
Call me a fair weather fan. Call me a bandwagon jumper. Call me anything you want.
This was a postseason that began with so much promise. We were rolling. The Yankees, or so everyone thought, were reeling. This was supposed to be our chance to rewrite the 2003 ALCS. As it turned out, we couldn't even rescript the 1999 ALCS, in which we won only one game.
Just when we thought a return to Fenway would right the ship, get the offense rolling, and sound the guns, we were soundly flattened. Outscored, outplayed, outquaffed, and outclassed. By the fifth inning, we knew it was over. And it stung, didn't it?
So tonight, when Game Four begins, I'll be in bed. Or at the mall. Or drinking in the corner of the shed. Because I can't bear to see Sheffield and Matsui doing the Highland Fling on the Fenway grass. Or Joe Torre hugging Mariano Rivera on our pitcher's mound. Or Kenny Lofton jumping madly, pumping his fist in the air as he charges the field. Or Jeter and A-Rod awash in champagne and making out in the corner of the visitor's clubhouse.
The Yankees are going to the World Series. And we are lying down to ease their passage over us.
Mathematically, anything can happen. We know that this is true. Trust me, I'd kiss Zim full on the lips if I thought it would bring our boys a pennant. But last night's whipping made it painfully apparent that we might not have what it takes. Would I love to see it? Hells yeah! But is it likely. It pains me to say this… but I don't think it is.
I don't like being the voice of doom. I want to be the guy who stands up and rallies the troops and shows up at Fenway to lead the Nation's chorus. I'm sure there are a number of better written blogs out there that will soothe your broken spirits, nurse you back to fighting weight, and dust off your seat on the bandwagon.
But we provide no such service here. I won't be watching Game Four. Because I just can't watch them beat us. Again.
Some day, the Red Sox really are gonna win it all. And it'll be good vibes and sunshine and talking apes and free ice cream and Mayor Menino handing out crisp one dollar bills in City Hall Plaza.
I dream about it every night. How it's gonna feel to watch the other team scurry madly as the Sox unload torrents of beat-down and ass-whoop. The otherwordly insanity when that final out is recorded and we've pocketed it all.
It's gonna be awesome.
But until then… torment.