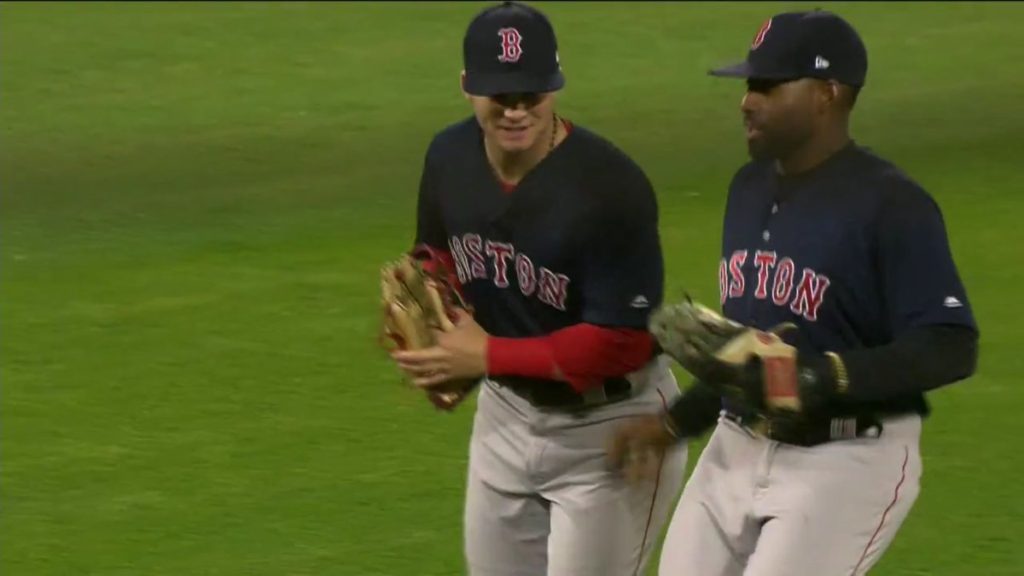 The twenty-first day of April is upon us. The Boston Red Sox have played 16 games so far this month, and lost only one of them. In total, they are 17-2 and it's a totally unthinkable start and the single best season launch in my lifetime and I honestly don't know what to do with myself over it. Hell, the best-built Red Sox team I've ever seen, the 2007 edition, could only muster an 11-5 record by April 21. How are these guys doing it?
It became obvious that an incredible opening run was afoot back when the Sox stormed back from a 7-2 deficit with a 6-run eighth to beat the Rays, 8-7 back on April 8. But since then, to put it in scientific terms, shit has gotten ridiculous.
In this incredible 17-2 run, the Red Sox have scored 123 runs — more than any other team in baseball — and have an astonishing +70 run differential. For fans of big-ass hits, they've also got five grand slams as a team. FIVE. And let's not forget that time Moreland, Ramirez and Sale were dispatched by NASA to destroy a giant meteor before it crashed into the sun. Those motherfuckers saved the planet. Show some respect!
Last night seemed a perfect game for the streak to snap. It was against the lowly A's, who've been baiting Boston fans on social media for weeks leading up to the series. It featured the return of Drew Pomeranz, who seemed rushed into a role we really didn't need him for at this time. And, hell, they'd just won 7 in a row. Other teams have to have some sort of a chance, right?
Wrong. The Sox were down 3-0 early, but just when you may have been ready to allow one to the opposition, Jackie Bradley Jr. crushes a 3-run homer in the second, setting the stage for a Moreland grand slam in the sixth to slam the door. Red Sox win again.
It boggles my mind, the way this team won't die. I may even say it baffles me. And it should baffle all of you as well, to the point that if you're gonna bet on baseball, and you elect to *not* bet on the Red Sox, you're officially insane.
I am but a simple blogger, not an oracle. So I can't say if we're gonna be cueing duckboats this year (we are), but the road into summer seems paved with gold. Bookies already favor the Sox for the World Series.
So should you.