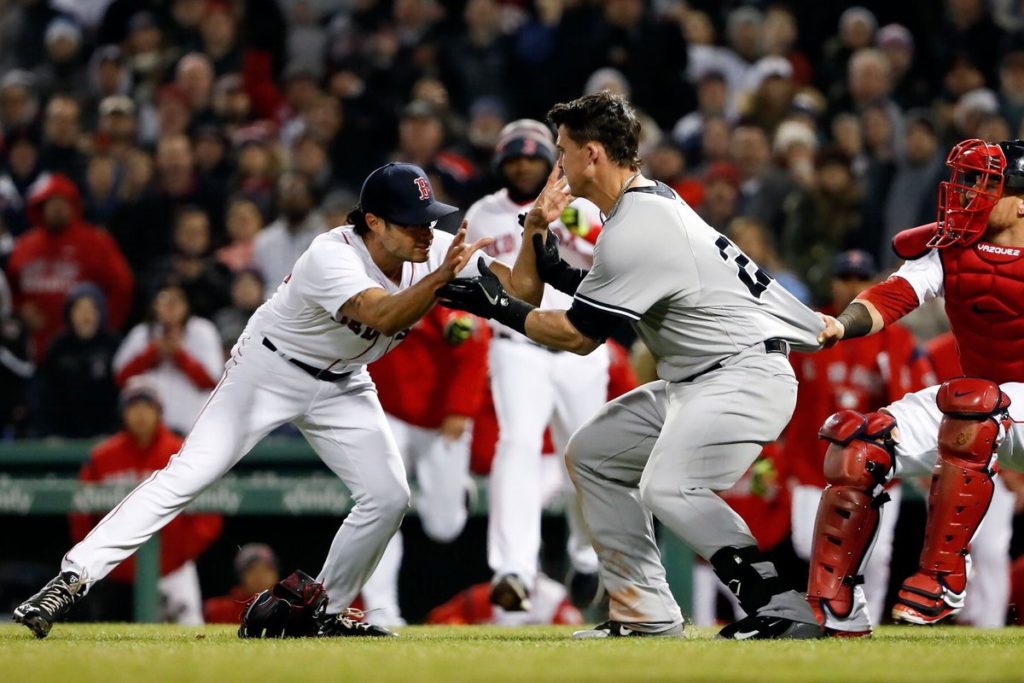 This one had the makings of an off night for the Red Sox. David Price leaves after giving up four runs in the first. Sox down by 7 in the fourth. Not an attractive scene. In fact, if you shut off the TV and went right for the Coors Light and Bugles, you may have been forgiven. But you would have missed the fireworks.
It all started when Tyler Austin came slidin' into second with his cleats up and out, clearly looking to bring harm to Brock Holt. Holt took exception, and benches emptied. But in that slow, lollygagging kind of way.
Then came the seventh inning. Joe Kelly, apparently pretty friggin tired of being known as "the guy whose meltdown cost us a 10-0 run to start the season," dished out a little street justice, plunking Austin and bringing that Red Sox/Yankees bad blood back to the forefront.
I'm still not sure whether he's saying "let's go" or "come on" or "come on, let's go" or "screw you, turkey tits" in the clip below. I just know that I'm fine with The Joe Kelly Method. You plunk a guy, he charges the mound, you gotta stand your ground and get whatever you have comin'. Kelly didn't run, didn't cower. He did, however, execute some funky headsway thing right before Austin's arrival.
Joe Kelly saying "let's go" is my new spirit animal pic.twitter.com/KKXVXqxUHj

— Red (@SurvivingGrady) April 12, 2018
I've always liked Joe Kelly, but I've always been infuriated by his seeming inability to harness his strengths and become as valuable a weapon as he is a clubhouse cutup. After tonight, his cult status seems assured. Joe Kelly's got our backs. So we must now have his.
Oh, and the Sox lost, but this may be the game that solidifies an already strong clubhouse and carries them to the postseason. So we kinda won.