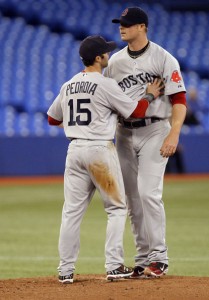 Dustin Pedroia and Jon Lester teamed up to lay the smack on the Phillies this afternoon. Lester pitched seven shutout innings and struck out ten. Pedie started off the scoring with a first-inning solo shot. Is there any question who the leaders of this team are?
I think Lester is truly embarrassed about the end of the 2011 season and is poised to have a legitimate shot at the Cy Young. Pedroia is Pedroia, you know what you're going to get out of him in every inning of every game. Today was just a preview of great things to come for these guys in 2012.
Meanwhile, Youk wasn't with the team because of a sore back. This is a concern. Youk only played 120 games last year and 102 in 2010. Already he's sitting out with a sore back? Better to rest it now but I would have expected him to show up ready to play.