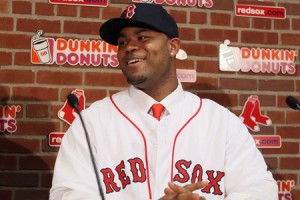 The World Series-like celebration of Carl Crawford at the end of today's game is exactly what this team needed to get rolling. It couldn't have been scripted any better in Hollywood. The aging veteran pitching well in a spot-start. The aging DH coming up with a big hit. The much-maligned reliever…never mind, Jenks still sucked. And for the finale, the struggling free agent with a walk-off RBI single to win it.
"Everybody's been doing a good job of trying to get me going," Crawford said. "The guys have my back. They really care about getting me going and they understand I've been going through some things."
That couldn't have been more evident after Lowrie crossed the plate and the entire team mobbed Crawford, doling out head-rubs to the delight of the Fenway crowd. This will be the game we all look back on as the one that got Carl Crawford and the rest of the team going. April is behind us, and our team is undefeated in May. Enjoy.