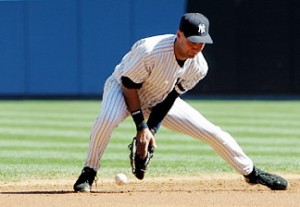 Jeter winning another Gold Glove is like Rob Schneider winning an Oscar. Boston.com has a great summary of all the reasons why Jeter shouldn't have even been considered for the award.
According to the Ultimate Zone Rating statistic kept by FanGraphs.com., Jeter was seventh among the nine American League shortstops with enough innings to qualify.

The 10-person panel that selects the Fielding Bible Awards, a group that includes Peter Gammons and Bill James, did not give as much as a 10th-place vote to Jeter.

Baseball Reference.com, using an advanced statistic called "total zone total fielding runs above average'' had Jeter's defensive skills rated dead last among shortstops.

When Jeter was announced as the winner, the usually nonpartisan Baseball Reference website had "we can't believe it either'' next to his name before the comment was taken down.
Next up: Charlie Sheen as Time's Man of the Year.