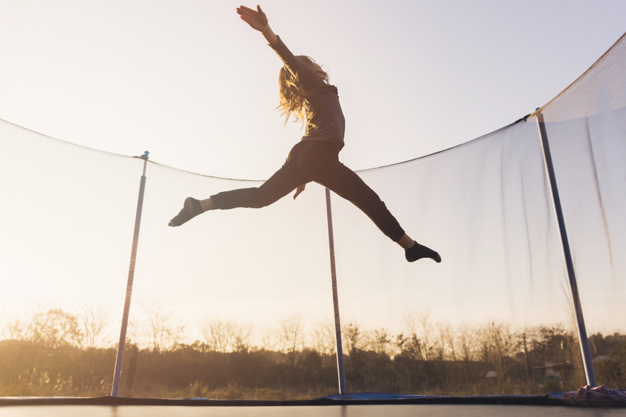 Back in the early 1920s a tribe called the Inuit, started a game of tossing each other up in the air using a big sheet made of walrus skin held by a number of people on the ground, to commemorate a harvest of whales. This so-called blanket-toss was being done in various other regions all over the world for multiple reasons too. Later on, this idea caught on with the rest of the world and led to the invention of the nets that fire-fighters used to catch people who fell out of high-rise buildings and or structures. Some regions still practice this game till today as part of their culture or festivities. Read all about that fun game online.
However, the first modern idea that led to what we now know as a trampoline, began in the circus, originally known as a 'rebound tumbler' and went on to become a sport of the same name. nowadays it is used in competitive sports, like gymnastics and in training for astronauts. Who knew such a simple idea come this far and be so useful?
That's all well and good, but if you're in the market to buy one, just for the simple pleasure of having it in your back-yard so your kids can have a go and get some activity done as part of their daily lives or perhaps you want one for yourself as a work out option. Which would you go for?
A Few Things to Consider Before you Choose to Buy One
Deciding that you want to buy a trampoline is the easy part. So, what else should you consider before running to the store?
1. How Much Space? The obvious thing to consider is how much space you have in your backyard or wherever you want to place the trampoline? Have you measured the space? By admission, the unspoken rule is to have at least a 1.5 metre empty space all around it and a height space of a minimum of 6 metres from the ground, at least. You need to make sure it is free from any obstacles or debris. If you're putting it outside, the ground should be flat.
2. Who Is It For? Again, another obvious contender, but still a very important one. Every model has a maximum user weight to it, the best thing you can do for you or your family is to check this and make sure you get the numbers right. even if you think you may not use it, it's always best to add some extra kgs to it, just in case you get tempted. This weight is usually measured by how high you will jump and how much you or your kids' weight in total.
3. Spring or No Spring? The two kinds of models you can choose from are ones with a spring and the others are without. However, in terms of the different brands that are on the market there are a surprising number of them here https://toptrampoline.net/bounciest-trampoline to choose from, which have been reviewed in-depth just for this occasion to help you choose the best one to fit your particular preferences.
4. Bounce Rate? So, which one has the best bounce? Out of the many types you get out there the most common ones are round, square, rectangular, inflatable and mini trampolines, to name a few. If you are looking for a high bounce rate, a rectangle one is your best, not to mention these are good if you don't have too much space. As are the square ones, in terms of space. But offer a lesser bounce, yet a good enough one.
The mini-one is usually an option for fitness reasons, for people who want to use it for a good 20-30-minute work out every day.
Inflatable ones are normally used on water, so in swimming pools or recreation centres like water parks. They do not have springs that are a lot safer for children. So, if you're looking for a spring-less one, this would be a good option because it is less rugged and usually protected on all sides.
In most cases it is okay to leave your trampoline out all year long, however there may be some things you need to do like take the net down or disassemble it. Ask your store for the best solution. Besides that, you don't want it to get too dirty either. Either way, when purchasing one, it's not always a good idea to go for the cheapest ones. Reading online reviews and weighing your options in terms of safety and size, is advisable.