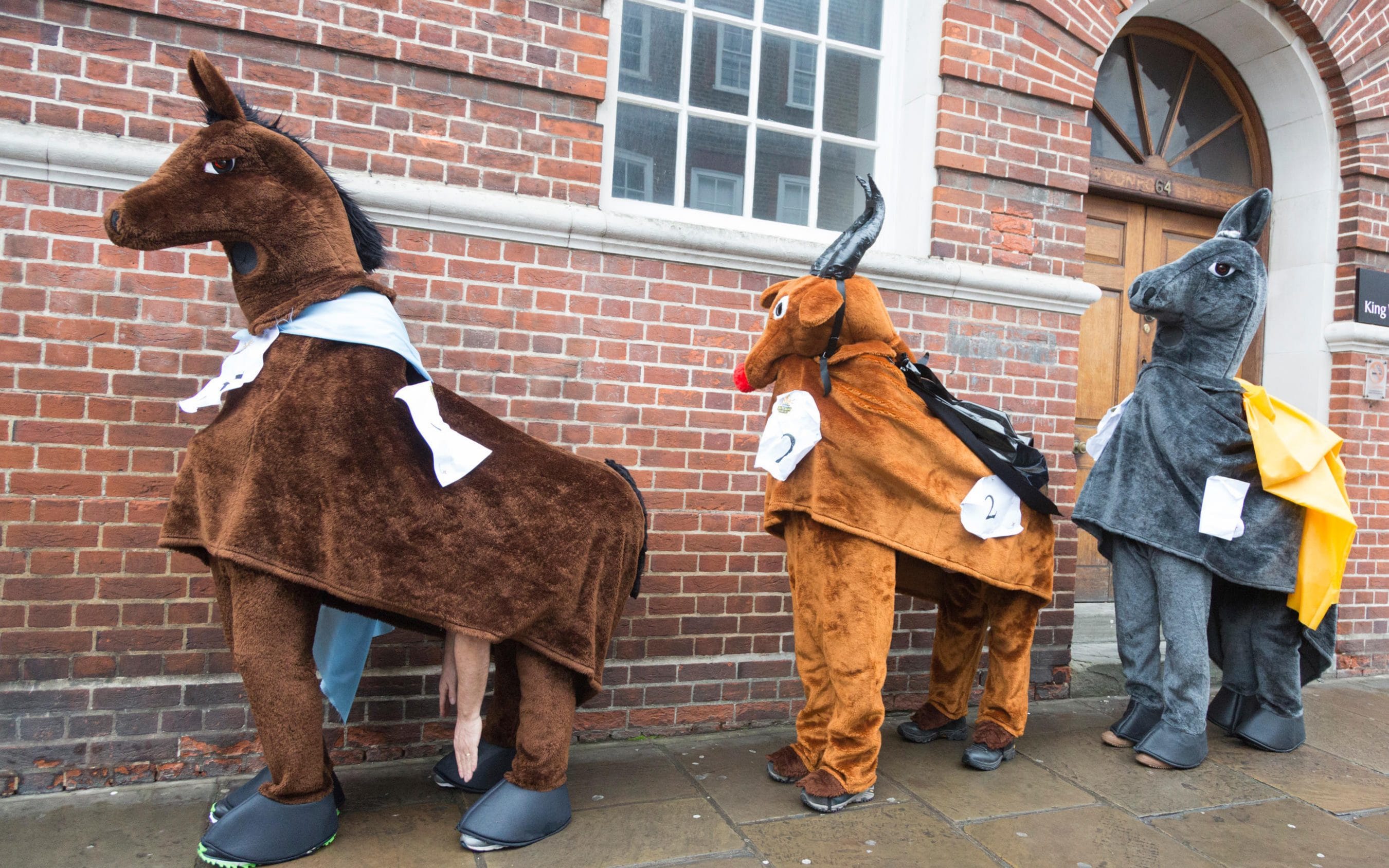 When racehorse owners name a racehorse, they have to choose a name which is unique. It can't be a name already used for a registered racehorse anywhere else in the world.
For this reason, with so many racehorses having graced tracks globally for centuries, choosing a unique name can be a battle. It can be a bit like choosing a unique username when creating an email address for Gmail. Or finding a domain name that's available.
This is just one of the reasons owners have come up with some really weird names for horses over the years. Another reason could just be to make the horse more memorable.
In this post we'll quickly take a look at some of the strangest racehorse names in history.
Arrrrr
Many people actually loved this racehorse's name, mainly due to the way race callers pronounced it like they were pirates. While this American horse only experienced mild success on the track, the name was a hit with callers and punters alike.
Waikikamukau
Pronounced "why to kick a moo cow", Waikikamukau was an Australian racehorse named after a New Zealand expression that basically means "a town in the middle of nowhere". The horse had 6 wins and 17 placings from the mid to late 1990s, so while sporting an extremely unusual and memorable name, the horse also had some memorable performances on the track as well.
Fiftyshadesofhay
An obvious play on words, referencing the mega best selling book "Fifty Shades of Grey", this filly won 5 out of 20 race starts and banked her owners more than $1 million in prize money.
Who Shot Thebarman
Arriving in Australia from New Zealand in 2014, Who Shot Thebarman already had 5 wins from 8 starts under his belt. In Australia, he quickly made a name for himself after competing in 5 Sydney Cups and an incredible 4 Starts in the Melbourne Cup.
Maythehorsebewithu
A racehorse obviously named by fans of the Star Wars franchise, Maythehorsebewithu was a New Zealand born horse that did most of his racing in Australia. 6 wins and one place from 26 starts is not a bad record, and that includes placing 5th in the Melbourne Cup. Certainly another very memorable racehorse name.
Vote For Lust
If this racehorse has many claims to fame, it's not for being competitive on the race track. In fact, in 2012, Vote For Lust was rated as Australia's worst racehorse, with zero wins from 90 starts. CNN took it a step further and labelled Vote For Lust the "world's" worst racehorse. Oh well, at least he was renowned for something.
Flat Fleet Feet
I think someone named this racehorse as a tongue twister for race callers. Try saying that name a number of times in a row and see if you don't stumble over your words. The American mare fared well on the track, finishing 3rd place or better in 19 races from 23 starts during the mid-1990s, so a very impressive record. Callers would have been glad when she retired though.
DoReMiFaSaLaTiDo
Talking about tongue twisters for race callers, DoReMiFaSaLaTiDo is another one that's very hard to pronounce repeatedly. Obviously named after the sound of musical scales, the horse had a couple of wins, but likely not a favourite with race callers.
Mywifenosevrything
An American racehorse born and bred in Kentucky, this mare happened to be racing at the exact same time as another horse with a similarly unusual name called Thewifedoesntknow. The pair actually vied for victory in the same race on one occasion.
Notacatbutallama
It's not a cat and it's not a lama either. It's a racehorse. He had some success on the track, snaring a pair of race wins, earning his owners close to a million in prize money.
Onoitsmymothernlaw
Another humorous racehorse name to come out of American stables. The mother in law must have put her foot down though, because the horse only managed 4 race starts.
Panty Raid
The somewhat lewd name of this racehorse managed to get approved by the American Jockey Club. The filly proved quite successful, winning 5 races from her 10 starts, netting over a million dollars for her owners.