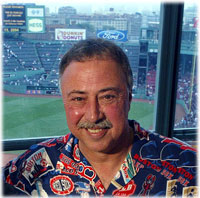 The Red Sox is a name that has likely been said in every household in America, regardless of the family's sports affiliation. This is because they are one of the biggest and one of the best baseball teams in America and have also enjoyed a rich history in the sport. The iconic name that invokes images of red articles of footwear is big outside of America too, such is the greatness of the team out of Boston. No one will doubt that the Red Sox have produced some of the most recognizable legends in the sport, iconic sportsmen such as Babe Ruth comes to mind. More recently though, many fans of the team and the sport as a whole will have Jerry Remy on their minds.
On Saturday night, the beloved Red Sox broadcaster Jerry Remer passed away following a hard-fought battle with lung cancer. It was a sad day for many fans of baseball, as despite being affiliated with the Red Sox, he was still one of the most respected sportspeople in America. There is no doubt that he passed well before his team, reaching only 68. In a statement by the Red Sox principal owner, John Henry said, "We are saddened by the loss of a beloved player, broadcaster, and 13-year cancer warrior". The fact that it was a battle that Remy had been fighting for 13 years shows the strength of his character and arguably makes baseball fans miss him even more.
Many will know that Remy was also a player in the MLB before he became a broadcaster. His teammates at the time called him 'Rem Dawg' and it will not come as a surprise that he enjoyed more than 40 years with the Red Sox in multiple roles, including a player, coach, and of course, a broadcaster. Remy chose to invest his life in the Red Sox, and there is no doubt that he loved the team with an intense passion that is hard to come by these days. Red Sox fans will certainly notice an overwhelming void in the space that Remy left, and whoever arrives to replace the legend will certainly have colossal shoes to fill.
In addition to the president coming out to speak of Remy, so too did the Red Sox manager, Alex Cora. He added, "Like everyone else in Red Sox Nation today, I'm absolutely devastated by Jerry's passing. We connected because of our love for the game of baseball". Whenever someone speaks of Remy, they do so with the greatest amount of respect, which gives a great idea of the person to those who do not know him.
For his accomplishments in the sport, Remy was inducted into the Red Sox Hall of Fame, creating a lasting legacy that will be remembered for years to come. He leaves behind a team who have just missed out on qualifying for the World Series, but fans will be hoping for better performances next season. While many might choose to back the Red Sox, some may have tired of betting and might prefer looking online for more sites that allow them to play for money online.
Jerry Remy is undoubtedly a Red Sox legend and will go down in history as one of the most loved players, coaches, and broadcasters of all time.