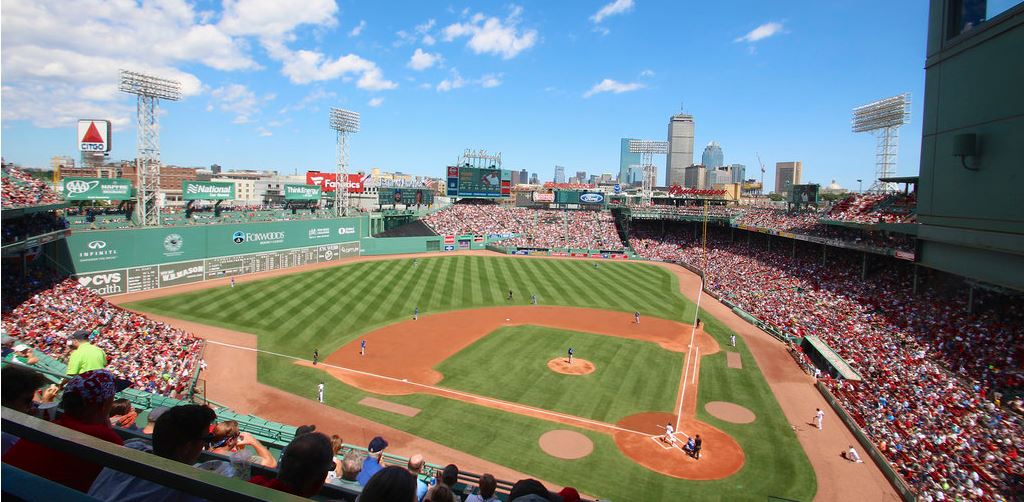 Alright, we didn't get an Opening Day this year like we'd hoped. And with every passing day the very idea of seeing new Red Sox baseball in 2020 seems more unlikely. But that doesn't mean we just have to sit back and take it: sites like SBD are optimistic enough to think we'll get some ball by the end of July (they're keeping track of every sport's potential return date at their home page here). Half a season is still better than no season!
Until then, here are some facts, both great and not-so-great, that can hopefully tide you over until they call our wretched souls back to the Fenway.
1. Way back on April 20, 1912, the Red Sox beat the Yankees 7-6 in their brand new stadium. Unluckily, their victory was overshadowed in the press by the sinking of the Titanic. The Titanic had sunk a couple of days before the event and continued to be the main focus in every national and local newspaper. This lack of attention did not have any effect on Red Sox though as they ended up winning the 1912 World Series. Champs!!
2. In Fenway Park, one red seat can be seen in between all the other regular seats in Section 42 of the bleachers. This seat marks the occasion in history when the longest home run ever was hit at Fenway by Ted Williams on June 9, 1946. The home run measured a whopping 502 feet. The seat was painted red in tribute to this remarkable achievement, despite the fact that no one really ever marked it during the game to prove that the painted seat is, in fact, the one the Teddy Ballgame reached. If you're lucky enough to sit in this historical seat then you may not have the best view of the game but knowing the amazing history (or the carefully structured myth, depending on your perspective) behind it will be totally worth it.
3. As a Red Sox fan, you should know where their name originated from. Red Sox were originally known as Boston Americans but changed their name to Red Sox in 1907. At the time, it was a norm to name a team after the colors they wore. Red Sox of course got their name from the red socks that they wore. They were also named Red Sox as it simply looked better than Red Stockings on merchandise.
4. If you've been to Fenway Park then you'll know that the beer is expensive. In fact, they sell the most expensive beer in baseball! As an ice cold beer is an essential part of a baseball game, you end up getting in several rounds anyway. One draft of beer costs close to ten bucks at Fenway but runs about half that at Arizona Diamonds. Maybe it's time to start saving for those beers.
5. Red Sox have had some amazing players throughout their 100+ years as a team. Some of the greatest players include Ted Williams as aforementioned who created history with the longest run ever and Carl Yastrzemski who led the league in OBP 5 times. Other greats in Red Sox history include Babe Ruth, David Ortiz and Pedro Martinez, Tris Speaker, Manny Ramirez, Jim Rice, Jimmie Foxx and Wade Boggs. All of these greats will remain in Red Sox history forever. We'd love to be adding Mookie Betts to that list, but… you know.
6. Fenway gather in huge crowds every time. They have a recorded capacity of 37, 673 currently. Although Fenway is supposed to fit this number of fans into its stadium, on September 22, 1935 a staggering 47, 627 people crammed into the park which is known to be their best attended game in history. It must have been a tight squeeze but the atmosphere during the doubleheader against the Yankees must have been amazing. Shockingly, this wasn't Fenway's biggest crowd. Almost 60, 000 people squeezed into the stadium 16 years before for a political rally.