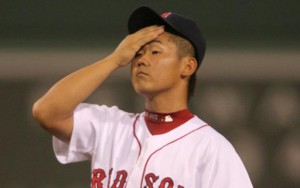 The game was over after two innings, the pain will last much longer. The Rays came limping into town at 1-8, having scored more than a single run in just three of their nine games. Twenty hits and sixteen runs later, the Red Sox were wondering if taking two-out-of-three from the Yankees was just a dream.
Dice-K wasted no time in bringing the suck, giving up a home run to Johnny Damon in the first. Then it got bad. Six runs on six hits in the second got the Tampa bats going, already with enough runs on the board to win this one. But wait, there's more! Wakefield coughed up five more in three-and-a-third and Wheeler struggled in the ninth giving up four runs on five hits. Aceves was the only guy in a Red Sox uniform to take the mound and not look like a total a-hole, pitching a perfect two-and-two-thirds.
Uglier than a Kathy Bates double-feature in HD, this one was. I won't waste your time trying to find the positives, the score was 16-5 for Christ sake. As a certain steroid-junkie once said, I'm not here to talk about the past.