Need further proof that baseball is a game of redemption? A couple nights ago, Daniel Nava was the goat. The guy who made a baserunning blunder that was as costly to us as a bad call at the plate in sealing our loss to the Rays. Tonight, he put the exclamation point on an improbable six-run, ninth inning comeback that earned the Sox an 8-7 win over the Mariners and a one-game advantage in the AL East.
Then he got his jersey torn off his back by his teammates. Because that's how they roll.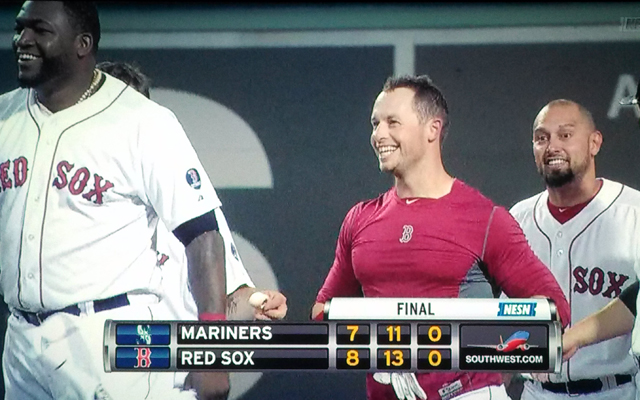 This was a 2004-caliber comeback. Man, it was garbage time. A five-run deficit going into the ninth. But somehow they clubbed and clawed their way back in, getting the bases loaded with nobody out, then big hits from Victorino and Pedroia to make everyone who left early want to punch themselves in the nuts. If there was any gimme, it was a pitch to Gomes that looked like strike three, but was called a ball. Appreciating his second life, he drilled the next pitch up the middle to tie the game, setting the stage for Nava's Redemption Tour.
To top it all off, we got Gomes and Jenny Dell getting soaked by a water cooler dousing during the post-game.
It was a game they had no business winning. Yet somehow they did. And that ninth inning delivered more passion and emotion than the entire 2012 season. Jumping off my couch and throwing beer cans and swinging from the light fixtures? Our forefathers died for our right to do that shit while the Sox make insane comebacks. For that, I am grateful.
Somehow, this team just keeps on winning. And I just don't see it letting up down the stretch.